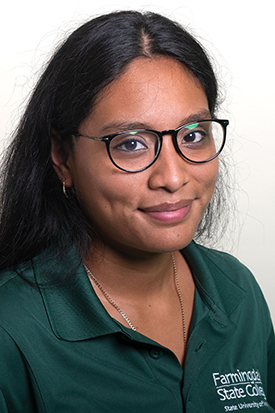 Year: Senior
Major: Science, Technology, and Society
Hometown: Bellport, NY
What I love about FSC:
I love the diversity on campus. Starbucks!!!!!!! Coffee has definitely become my best friend on campus. I can easily study at Books and Beans while sipping on my caramel macchiato or at campus center. The food options not only on campus but around campus is always amazing and diverse.
Campus Involvement:
Rambassadors, Chi Alpha Epsilon Honor Society, Delta Phi Epsilon Sorority
Andy Charlorin
Year: Junior
Major: Science, Technology, & Society
Hometown: Hauppauge, NY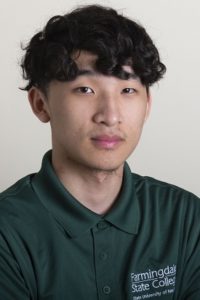 Year: Sophomore
Major: Security Systems
Hometown: Middle Village, NY
What I love about FSC:
My favorite thing about FSC has got to be the food in and around the area. The various restaurants around campus have been new experiences for me. Another thing I love about Farmingdale is how kind and generous the staff are, you will always catch the staff with a smile on their faces guaranteed.
Campus Involvement:
RAM (Research Alignment Mentorship) Program, Rambassasdors
Cameron Olsen
Year: Junior
Major: Computer Programming and Information Systems
Hometown: Southampton, NY
Charizma Paray
Year: Sophomore
Major: Professional Communications
Hometown: Trinidad and Tobago, West Indies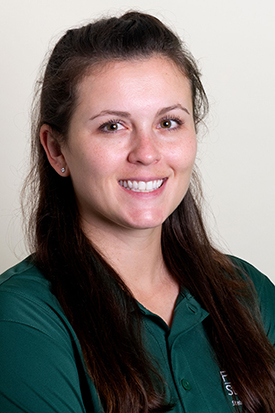 Year: Senior
Major: Bioscience
Hometown: West Islip, NY
What I love about FSC:
I love the small class sizes and the one-on-one hours I get to spend with my professors.
Campus Involvement:
President's List; Treasurer, Pre-Health Professions Club; Golden Key Honor Society; Beta Beta Beta Honor Society; Chemistry and Biology Tutor for Tutoring Center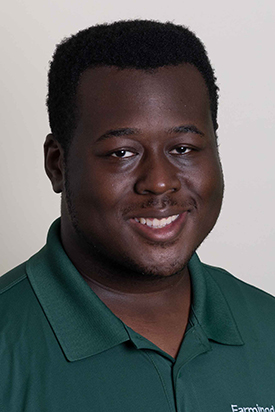 Year: Sophomore
Major: Automotive Engineering
Hometown: Bronx, NY
What I love about FSC:
I love the atmosphere and the class sizes that help you gives you the opportunity to know your   classmates and professors better. I love that there are plentiful resources available around campus. Farmingdale offers opportunities for each student to work hard and to achieve their goals and dreams in their career field. Everyone is friendly and highly motivated for success.
Campus Involvement:
Resident Assistant, Orientation Leader, President's List, Rambassadors, CSTEP, Ram Motosport
Year: senior
Major: Business Management
Hometown: Whitestone, NY
What I love about FSC:
Being a dorming student at Farmingdale I love how the welcoming atmosphere has allowed me to make Farmingdale my home away from home. We have a medium size campus which I feel is one of the most beneficial things for our students. You are able to truly get to know and form connections with not just fellow students but professors or staff on campus.
Campus Involvement:
Vice President of Programming, Greek Council; Phi Sigma Sigma; Hugs Across America; Dean's List
Hassan Hajdaoud
Year: Junior
Major: Professional Communications
Hometown: Brooklyn, NY
Idella Pack
Year: Junior
Major: Criminal Justice
Hometown: Bay Shore, NY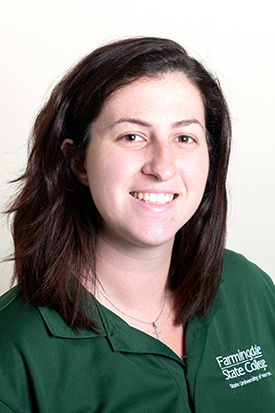 Year: Senior
Major: Medical Laboratory Technology
Hometown: Brooklyn, NY
What I love about FSC:
I love that everyone on campus is kind and friendly. The campus is smaller, so it is easier to get around. The thing that I love the most is that the classes are small. It allows me to connect with my professors instead of being just a name on a piece of paper.
Campus Involvement:
Activities Director, Student Nurses Association; Student Representative, BS Curriculum Board; Present Peer Mentor, MLT Club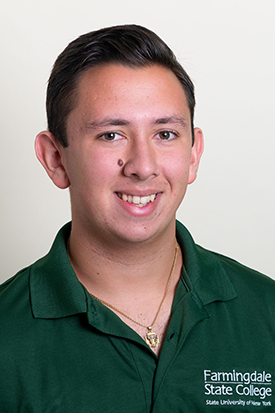 Year: Sophomore
Major: Construction Management
Hometown: Elmont, NY
What I love about FSC:
I love the friendliness of the student body towards one another, as well as the willingness of teachers to help in any way they can. This truly makes the campus feel like one big family. I also genuinely enjoy how beautiful and well maintained our campus is!
Campus Involvement:
Dean's List; Founding Father, Alpha Sigma Phi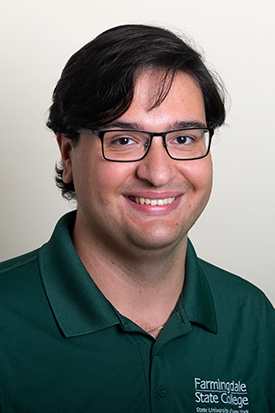 Year: Senior
Major: Nursing
Hometown: Kings Park, NY
What I love about FSC:
What I love about Farmingdale is the incredible affects it has on the surrounding community. The administration has many outreach programs for various fields. This extends to the nursing program in which there are countless opportunities offered to students. These outreach connections benefit Long Island communities as well as fostering growth in those students that participate in them.
Campus Involvement:
Charter member of the Disability Services Center Student Advisory Council, Chi Gamma chapter of Sigma Theta Tau, Golden Key Honor Society, student member on the Department of Nursing Outcomes Committee, Student Nursing Association, Rambassadsors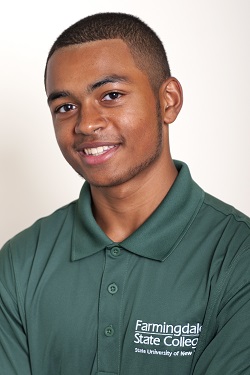 Year: Senior
Major: Nursing
Hometown: Bohemia, NY
What I love about FSC:
I love that in just a few short years, Farmingdale has become my new home.  I feel comfortable and knowledgeable about the campus.  I have established relationships that will last years, and I have shared moments with people that are unforgettable.  Overall, Farmingdale has helped to facilitate tremendous personal growth over the last few years, and I wouldn't trade it for anything.
Campus Involvement:
CSTEP, Orientation Leader, Rambassadors, Sigma Delta Tau Nursing Honor Society, Student Government Association, and Student Nurses Association
Lucila Hernandez
Year: Junior
Major: Bioscience
Hometown: Valley Stream, NY