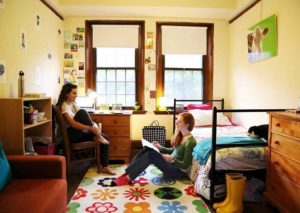 As a Resident Assistant at Farmingdale State College, it comes with a lot of responsibilities and time management. Many of them consist of being able to handle school work with your RA duties, hold floor meetings, come up with programing ideas, and being a student leader. New students, transfer students, and even returners look up to you for advice, or just to have company. RA's help guide students for them to get involved, and have many opportunities to join activities around campus. Before getting hired, there are a couple of steps you need to complete, such as an application and an interview process. If you are interested, you can access the application online through the Farmingdale State College website, under Residence Life. 
The application is just like any other application asking for a resume, personal statement, letters of recommendation, and other activities that you are involved in, or any previous jobs. In order to apply, all applicants must have a semester/overall GPA of 2.5 and above, or a transfer student with sophomore status with at least 30 credits. Also, all applicants must also be in good judicial standing with the college in order to qualify for the position. This application is not only for resident students. Commuters are allowed to apply as well. If you meet the requirements on the application and answer all the questions that were asked, now you would have to wait for a response. Then the next step would be scheduling a time to meet for an interview. During your interview, this is your time to shine to show off your personality. This is your time to really sell yourself to the job, and show how you would be great for the team. 
After the interview process, you just wait to see if you get the position as an RA, alternate RA, or if you did not get the position at all. An alternate RA position is if an RA decides to not be an RA anymore. Some may graduate, or drop out for certain circumstances. In that point, the alternate RA would step into the position and become an official RA, with the benefits of a room. If you are an alternate RA, you do not get the benefits that an RA does, because you are an alternate. Once you officially become an RA, you will receive those benefits. Overall, it just means you're next to be placed in that position. If you did not get the position, do not be discouraged. Try to apply again next year, or apply for another leadership position around campus. 
Once you accept the position as an RA or an alternate, you have to make sure you will be available for training before classes start. The training usually takes place a couple weeks before classes, in the summertime. RA training is to get the updated information and learn about the guidelines and restrictions in the residence halls, and as an RA. Training is also fun getting to know your staff and working closely with your co-workers. During training, you will also be prepping the building you're in charge of to get it ready for the residents to feel welcome when they come to move in on campus. This is the most exciting time being an RA, getting to know your residents, and building a relationship not only with the residents, but with the Residence Life staff throughout the year.
The Residence Life staff will become your second family, and you will share and make many long-lasting memories with them. If you have any questions or concerns about the application process, or how it is being and RA, feel free to contact Residence Life or go up to any Resident Assistant (RA).