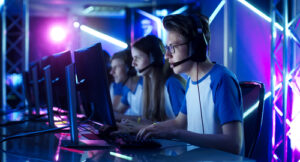 Esports are on the rise worldwide, and of course that's true here at FSC as well. If you don't know what esports are, let me explain. Esports is short for electronic sports. Esports is a competition, but instead of games like football or soccer it's a competition in a video game. Many different games now have esports competitions and these competitions are becoming so big that there are professional players that are getting paid for being the best at their video game, just like athletes do in their respective sports.
 The Farmingdale esports club was able to start esports teams for multiple games this semester. The games include Rainbow 6 Siege, League of Legends, Overwatch, Super Smash Brothers and more! The games that we have teams for will be joining Esports Leagues very soon, so we can start competing against other schools. If a game you play doesn't have a team for it, don't worry; the president of the club is working towards expanding the games that we play, so if you're interested, make sure you come to club meetings and show your interest so the club can grow even more. All of us at the esports club love playing games, so even if your favorite game doesn't have a team, don't be shy. There are most likely other people who also enjoy that game in the club already. The esports club is great for finding new people who share the same passion for video games as you. If you are interested in joining the club, you can show up to a club meeting. They are every Tuesday during activity hour, and if you are interested in joining a team after coming to the club you can talk to the managers of the teams and they can help you try out and get on to the team of your choice.
 Going to the esports club meetings and being on the team has helped me meet a lot of people that also enjoy playing the same games as me. All of the people at the club are friendly, and most of us hang out and play outside of club hours now. If you aren't interested in playing for the team, the club is still open to anyone. If you don't have the time or commitment to be on the team, the club is still worth checking out because many of the people there could end up being your new best friend. The club also has a Discord server; if you don't know what Discord is it's an online messaging app. Many of the members of the club are active in the Discord server and we sometimes plan events or days to hang out around campus.
 Over the summer when the club got funded to create teams, we were able to build an esports arena on campus! The arena has many setups for all the different games that we play. There are many high-end gaming PC's for all our PC games, we have consoles for our console games, and we also have gaming chairs at each setup. This arena is where the teams have their tryouts, practices, and games. The arena is located in the bottom floor of Conklin Hall to the right of the main lounge area.
 When I found out about this club, I was very excited to join because I love video games. At the end of last semester, I heard they were going to be starting a team for Super Smash Brothers, which is one of my favorite games, so I was even more excited. I think that this club is really great for anyone interested in esports, because not only do you get to be on a team and play games, but they teach you about esports outside of college. I've met multiple people who know a lot about how to get into esports outside of just the school team. Not only does the team teach you about esports, but while I was at the tryouts for the Super Smash Brothers team playing against all the really skilled players there, I was able to become better as a player. I think this club is great for trying to improve your game skills, as well as increase your knowledge about esports if you are interested in pursuing esports outside of school and in your future. If you're looking to a join a club and you enjoy video games, I heavily recommend you check out the esports club. I hope to see you there!