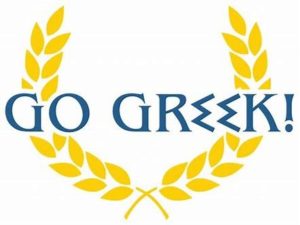 One of the most important things we are always told in school is to get involved, in whatever type of extracurricular activity that may interest you. As a new college student last year, like many of us, I chose not to listen to that advice. Doing so I did not enjoy freshman year whatsoever; I went to classes and sat in my car on breaks just to go back home at the end of the day. I viewed each person I walked past as a stranger because I never had any social interactions with other people around the school.
In fall of 2018, an opportunity that 1% of college males will ever get came around and I had to say yes. The opportunity to help found Alpha Sigma Phi – Iota Psi here at Farmingdale State College. Joining this Greek organization was the best decision that I've ever made. At first, going to events and seeing brothers around campus, it just felt like "Oh, okay, yeah there's that guy I know from the Greek group I'm in, whatever his name is." After initiation, there was a little bit more of a closer bond between my brothers and I because we all now felt like we were officially part of something bigger. Looking at the present day, I don't know if I would still be in college if it wasn't for my brothers.
Alpha Sigma Phi to me is not just an organization, it is a lifestyle, a gentlemen's group, where we push each other every day to make ourselves and our brothers better. While I love my brothers I strongly suggest that you find the Greek organization that is the right fit for you. Talk with brothers and see what they are like, what events they do, feel them out and never limit your options based off of other people's opinions.
Here are a few reasons and explanations why Greek Life at Farmingdale has benefitted me!
Help with difficult classes – Farmingdale has an excellent tutoring center in which fellow students and professors can help you better understand material you are having a difficult time with. Although it is sometimes difficult, for me at least, to learn from someone I have no connection with or feel uncomfortable with. Joining a fraternity I opened myself up to a group of people from across all majors who have taken a plethora of different classes. While I was struggling in economics, I was able to sit and study with a brother who explained everything to me, and my grade was able to go from a C to an A, just because I had a brother who was an economics major.
Difference in opinions – You may be asking yourself, "Well, why does this benefit me?" The world will never be a perfect place, but learning to listen and think instead of listen and react is something I've gained in Greek Life. Understanding that with such a large group, not everyone will come to an agreement, and that the best for the majority has to be done has taught me a lot. We always want what is best for us, but once you're in Greek Life you'll quickly realize that even if you do not agree, you will agree that you want the best for all of your brothers and sisters.
Lifelong friends – My Alpha Sigma Phi brothers are exactly that – they are not friends, not schoolmates, they are my brothers. Now, I will not tell you that you're going to enjoy the company of everyone but you'll find your "crew" within the organization and you'll never leave their side. These are the people I go to when I get a good grade, when I get a bad grade, when I need a shoulder to lean on or just someone to hang out with. My brothers are the ones who can tell when I am not feeling right and can always cheer me up.
Finally, let me be the first to tell you that Farmingdale State College Greek Life is not what the stereotypical organizations are. The movies and TV shows that portray Greeks are incorrect. We are much more than that! Our organizations at Farmingdale are involved in raising thousands of dollars each year, creating events for the community, as well as supporting the local community, not throwing crazy parties but throwing events for our members to grow a stronger bond, and finally we are not just a group of crazy college kids. Greek Life at Farmingdale State College is a group of fun-loving, hardworking individuals who have created one big family that would do anything for each other.