As students, we write. A LOT. Despite our extended years of experience writing papers and paragraphs, we have had many mistakes slip right past our memories. The following are a group of the most common grammar mistakes anyone can make and how to correct them.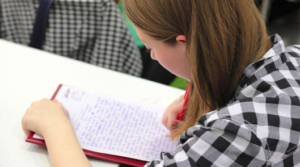 Affect vs. Effect
The most common of all, whether to use affect or effect is something we can easily ignore in the verbal sense. It is when we have to put it on paper that we sneak onto google or just try and hope our reader doesn't notice.
Affect – is used as a verb (i.g. The humid weather yesterday affected my hair.)
Effect – is used as a noun (i.g. Humid weather has a negative effect on my hair)
Active and Passive Voice
In active voice, the subject performs the action. In passive voice, the subject receives the action. Try to use active voice whenever you can, because passive voice can come off as confusing.
Active Voice – i.g. – I burnt the cookies.
Passive Voice – i.g. – The cookies got burnt.
You and I vs. You and me
When using this fragment, we typically are told to use "you and I," however, you will find that you can use either depending on the circumstance.
You and I – You both are performing the action (i.g. You and I are working together.)
You and me – You both are receiving the action (i.g. The teacher picked you and me to work together.
Who vs. Whom
Verbally, we never use whom. So this question never crosses our minds, that is until we have to write about it. Here's an easy trick.
Who: Use if you can replace it with he or she. (i.g. Who is going to the party? He/she is)
Whom: Use if you can replace it with him or her. (i.g. Whom should I talk to about the party? Him/her)
Whose vs .Who's
This homonym is something we don't really think too much about, until we have to put it on paper. From a first glance, one would think that "who's" is possessive because of the apostrophe. However, this is a special case in which these words' usages are switched.
Whose is possessive. (i.g. Whose baseball glove is this?)
Who's is a contraction of "who" and "is." (i.g. Who's playing catcher today?)
Alot vs. A lot
This one is easy because, SURPRISE, "alot" is not a word! Next time you're complaining to your friend about all the questions on a test, make sure you use "a lot."
Assure vs. Ensure vs Insure
Another case of words that sound the same. It is easy to mix up these words verbally (at least assure and ensure). However, we cannot help but do a double take when looking at them on paper.
Assure: To promise (i.g. I assure you that we'll get to class on time)
Ensure: To confirm/guarantee (i.g. I ensured with the professor earlier that there will not be a test today.)
Insure: To protect/cover with an insurance policy (i.g. Now that my car's insured, we can carpool to school together.)
Semicolons
Here's what seems to be the biggest one everyone is afraid of. To be honest, it's best to avoid using semicolons to prevent yourself from making an error. It wouldn't harm your paper to leave them out. You can always create a conjunction or a whole new sentence. For those confident enough to use a semicolon, only do so under the following circumstances.
Connecting related thoughts

Nicole went to the library; she's studying for a test.
Nicole went to the library; Jesse went to the Campus Center.

Making a serial list

While on vacation with his family, Nick traveled to Barcelona, Spain; Florence, Italy; and Frankfurt, Germany.
Our date night typically includes going to dinner; seeing a movie – we'll be seeing "Black Panther" tonight; and having some ice cream.
9. Italics or Quotation Marks
You read a book, saw a movie, or found an article. You type the title, then the question hits – Do I use italics or quotation marks? Here's the rule.
Italics: For bigger titles, such as movies, tv shows, books, newspapers, paintings/sculptures, plays, etc.
Quotation Marks: For smaller works, such as a chapter, article, episode title, short stories/poems, etc.
Less vs. Fewer
These words seem very similar in their definition. There is a smaller amount or number or a thing. However, looking closer we can see the difference between these words.
Less: Use with uncountable items or time (i.g. I spent less time watching T.V. during the school year.)
Fewer: Use with countable items (i.g. As the years went by, there were fewer T.V. channels available on the Basic Cable Package.)
Whether you're a student or not, writing mistakes can happen. There are some grammar tips that fall through the cracks, especially when certain words, phrases, or punctuation aren't often used. Keep writing and don't be discouraged if you need to look something up for a quick grammar fix. It might just help you get that job or promotion.