There is no doubt that Farmingdale State College has many opportunities for its students. However, sometimes we find difficulty fitting our school's activities into our schedule. Thankfully, FSC provides its students with an activity hour.
Without further ado, here's a little taste on how to spend your next activity hour!
Tables, Tables, Tables!
It's guaranteed that you've walked into the Campus Center and have seen a table at least once. Typically, these tables advertise events or organizations/clubs on campus. I have seen numerous tables for groups such as our Health and Wellness Center, sororities/fraternities, multicultural clubs, CAB, Backstage Theater Company, and many others (including Rambassadors wink, wink). Taking a minute or two to visit these tables is a great opportunity to learn more about our campus, make some friends, and even get involved in a group you'd like to join! Some tables even have awesome giveaways, too.
Beautiful Benches
If you'd prefer to just sit and relax during your spare time, FSC's big green campus has got you covered! There are numerous benches sprawled around the campus, each giving their own lovely views. Some hot spots include Bunche Plaza, MADD Gardens, and the Teaching Gardens.
Bunche Plaza is located between the halls of Laffin, Roosevelt, Greenley, and Knapp and provides the beautiful view and sounds of our fountain and vibrant colors of surrounding trees. Look up and you will take notice of the numerous flags representing our international students, a great symbol of the welcomed diversity on our campus.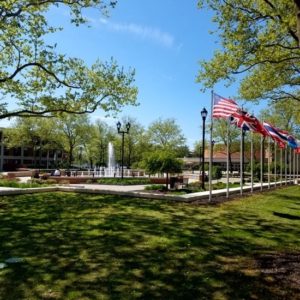 The MADD Gardens situates itself between Lupton and Hale Hall. It showcases an unfinished wall that honors the memories of those injured or passed due to alcoholic traffic incidents on Long Island. The beautiful sculpting was done by several FSC Construction Majors in 2006. Also surrounded by Farmingdale's lush foliage, MADD Gardens will give you a sense of remembrance and peace.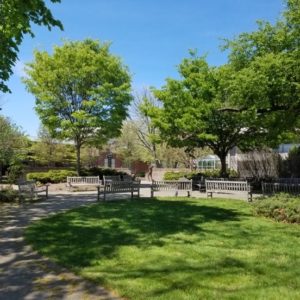 The Teaching Gardens is located behind Hicks Hall and is managed by the Horticulture Department. Decorated with lush, colorful foliage in the spring, this tucked-away spot is open to the public from April 1st to November 1st from 9 a.m. to 6 p.m. It showcases numerous gardens with benches for students to unwind. Every May they hold their annual Plant Sale, a great opportunity to get the family a gift!
Lectures and Get-Togethers
Many lectures are held on campus by professional writers (journalists, poets, etc), researchers, business persons, cultural presenters, and more. These presenters can help to expand one's mind about a certain topic and even more about where their major can take them.
Certain clubs on campus also hold get-togethers and events, featuring food, games, and activities, such as by Farmingdale Fusion, the Gaming Club, and CAB. These can occur in the Campus Center ballroom, Campus Center lobby, and the Great Lawn. So be on the look-out!
Leadership Development Opportunities
In recent years, the AAIC began the Leadership Development Program. This series of lectures are intended to train college minds on how to be effective leaders, regardless of their major. Some of their previous lectures covered first impressions, cultural connections, financial literacy, self-care, and conflict resolutions. Many of these lectures take place every semester, and attending a certain amount of them can award a student with a special leadership certificate! It is a great opportunity for any student to improve on themselves as a leader, regardless of their major.
Memorial Gallery
Open Monday through Friday from 9 a.m. – 4 p.m., the Memorial Gallery showcases the works of various artists per semester. Some featured artists in the previous years include Kevin O'Callaghan, Peter De Séve, Joanne Dumas, and even our seniors! The Memorial Gallery is open for any student, not just Visual Communications Majors, to enter and enjoy. It is a great place for any student to appreciate the artworks of others without having to travel to the city. Each artist will also have their own lecture, typically around 3 p.m. on a specified date, delving deeper into their inspiration, growth, and experience as an artist.
There is still so much more that goes on at Farmingdale State College. An events page is located at the bottom of the FSC website, showcasing what is happening on a weekly+ basis. FSC also has a social media directory, so be sure to follow on whatever platform you like to become more informed on the spot. Other organizations also utilize social media to keep their crowds informed. Want a more student-to-student approach? Then follow fscrambassadors on Instagram, where fun pics are taken on-the-spot by FSC's Rambassadors.
So, next time you're on break, go explore, engage, and participate!