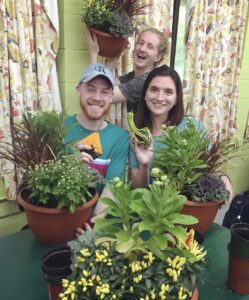 Welcome to the Farmingdale Horticulture Club! When signing up as a member of Horticulture, students will experience more than just an extracurricular club to put on their resume. The Horticulture Club gives Farmingdale students a family, a calming place to go on campus, and memories that will last long after graduating.
Being one of Farmingdale's oldest clubs for students to join, Horticulture meets near the campus greenhouse every Tuesday at
11 a.m. The Horticulture Club hosts hands-on fun that includes a plethora of plants and flowers for individuals that have been blessed with a green thumb. Don't worry though, if you weren't born with a green thumb, you won't be judged! Not only does Horticulture Club president John A. entice club members with yummy snacks and refreshments that he supplies weekly, he also encourages everyone on campus to join, whether they have experience or not. As an expert in horticulture, John is extremely knowledgeable about all things involving plants, and he includes lectures before we dive in and get our hands dirty with soil. Anytime I've ever asked him a question, he's been more than happy to answer, and he makes learning lots of fun!
Upon joining this fabulous club, students will experience a variety of events. I'm always looking forward to the emails that get sent out to club members, for the events the next meeting will have in store. As I stated previously, meetings can include lectures, but they also dabble in meditation, wreath-making or pumpkin-carving contests, and strolls around the greenhouse. Club members also get to enjoy occasional field trips to the Botanical Gardens, which is basically heaven for our green-thumbed enthusiasts.
Some topics that I have found extremely interesting include seasonal flowers and their time to bloom, mushrooms (and the different varieties you'll find in the woods), along with ways to best care for your plants. We've also had an herb-dye class, revamping old t-shirts and fabrics with unique colors and designs that are eco-friendly. To make it even more interesting, we even have a potluck feast around Thanksgiving time. YUM!
Not only are the seasonal projects and traditions fun, but they're memorable. So many of the students live at Farmingdale's dorm, and the Horticulture Club allows these students to celebrate these warming, festive times, so not to miss out on the joyous holiday seasons, or any traditions happening at home.
Although I'm not a dormer, some of my favorite holiday memories of Farmingdale come from the Horticulture Club! I'll never forget carving pumpkins during Halloween, or the exquisite wreath-making for the joyous holiday season. I gifted that wreath to my grandma, and I'll never forget the huge smile it put on her face. The beautiful floral bouquets that we made for Valentine's Day was a great gift to give to my mom, and it made it more meaningful, since I was the one that designed it to her liking. Best of all, all these resources are free, and the memories of making them with other club members are far better than going to a store and buying these items (which will most likely be overpriced).
Although I have so many memories from this club, my favorite memory that I'll always be fond of was making fall patio planters. It was my first big project upon joining the Horticulture Club, and my friend Ethan and I wound up having a lot of fun creating a festive planter that would be perfect to display for the incoming fall season.
I transferred to Farmingdale from a community college, not expecting a lot when it came to campus life. Boy, was I surprised! There was a huge club fair at the beginning of the fall semester, and I was able to see how many organizations I could get involved in. Every representative of each club that I spoke to was so nice, and they were full of useful information, and luckily, someone from Horticulture was there to recruit more members. After the club fair, I knew I was going to have a great experience at Farmingdale. I've met amazing people in Horticulture, and it makes my college experience much better, since I know that I have great friends that I can spend my time with.
Lastly, I recommend students check out Farmingdale's greenhouse. When joining Horticulture, students are always near it, but it's nice to explore all the lovely plants that live there. I find myself going to the greenhouse during my breaks between classes, and it helps me de-stress with the heavy coursework I have as a junior. A lot of the time, Horticulture students are in the greenhouse tending to the plants, and they are always welcoming whenever I pop in. There are many hidden gems on campus, but the greenhouse is my favorite. Being a college student can be extremely stressful at times, so finding a place to make new friends and learn new things is fulfilling.