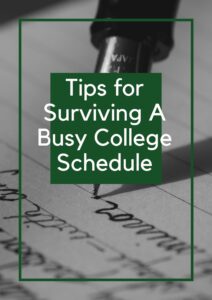 College gets busy. Let me be the first to tell you that it can be difficult finding a balance between school, making time for your loved ones, committing to extra-curricular activities, and maintaining an active social life. This semester I had to somehow figure out how to effectively balance six classes, work, sorority events, on-campus club involvement, and a social life.
As a continuing college student or incoming freshman, the strategies that I had to implement to maintain my sanity despite an extremely busy schedule could definitely help anyone that wants to make the most of their college experience.
1. First thing, develop a routine that works for you and stick to it! Sometimes using a planner can help you stay on track with what activities you need to complete each day. This will require some trial and error and may take some getting used to, but once you commit to it, it will significantly improve your time management skills (it took me an entire semester to get it right, so don't worry if you're having difficulty too). However, once you figure it out you will certainly be able to balance all your responsibilities. It may sound like you're back in elementary school, with having to plan out your daily activities, but it helps you to manage your time in a way that allows you to evenly spread out your time and prioritize appropriately.
2. Find good places that are conducive to productivity. We all know that the worst possible place to finish that assignment you have been putting off is on your bed. A cozy, hideaway spot in the library, the nearest coffee shop, or even some secret spots on campus, can be excellent get-away spots that allow for heightened focus. At FSC, we have study rooms, silent-study labs, and private cubicles in the library for studying, and if you are in the mood for change on the warmer days, the garden, a spot near the fountain, or the benches near the Campus Center would be perfect to get work done in a timely fashion.
3. Find activities that are both productive and fun. At Farmingdale State College, we have lots of clubs that can allow you to be engaged in activities that are beneficial to professional development, but at the same time, fun! This semester I was president of the Women in Business Club, a club that allowed me to learn skills necessary for the working world, but was also enjoyable because we actively planned and discussed events like city trips to reputable businesses, and events with businesswomen. There are many clubs and societies (International Business Club, Economics Club, Greek Life, or Medical Laboratory Science Club, just to name a few) on campus like this that you can be a part; remember it's all about balance!
4. Find some activities that allow you to take a break from all the stress. Do you remember the saying "all work and no play makes Jack a dull boy"? Undoubtedly, it is important to remain focused on the tasks that are productive and keep you on the right track to success, but there will be days when you need to kick back and relax. You cannot always be productive, as sometimes you just need a minute to have fun and hang out with your friends, or go on an adventure. College is a time where lots of memories will be made, so sometimes it's OK to take some time for yourself, whether it be spending time with your significant other, going to a party, or spending time with your friends and family. Just do not forget to have fun!
5. This may come as a shock, but sometimes it is OK to quit something. We all spread ourselves too thin sometimes, which limits our potential and affects our mental health. If you find yourself really struggling to keep up with a busy college schedule, cut back on some activities. There is no need to romanticize being the busiest person out of everyone you know. We have four years to accomplish everything that we want to achieve in college, so there is no shame in putting something off for the next semester.
In retrospect, college can be busy, but with the right strategies and finding the perfect balance of activities that work for you will allow you to maximize your college experience to make these four years some of the most memorable of your life!