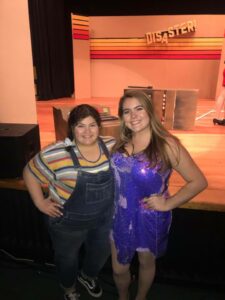 Hello! I am Colleen Lamberti, a junior Business Management major and English Literature minor. I want to explain how the Backstage Theatre Company on Farmingdale's campus changed my life.
When I was a senior in high school applying to colleges, I was very confused.There were so many different types of schools and degree programs. I am also a first generation college student, so my parents were very eager to send me to college. I decided to pursue a Musical Theatre BFA in upstate NY. I went to my auditions for college, and decided this was not for me. Theatre had always been a passion of mine. I wanted to make my passion a career. I had to step back and think of what else I could see myself doing. I thought maybe accounting or finance.
I researched colleges with outstanding business majors in the area, and landed at Farmingdale. I thought, I can go to school and earn a business degree while continuing my love of theatre outside of college. At my orientation, everything changed.
I was surprised at my orientation that Farmingdale, being a technical school, had a theatre company on campus. The Backstage Theatre Company was tabling outside the Campus Center on that hot August day. I spoke to the president and vice president about joining. This was a big sigh of relief to me. I have always been involved with theatre, and it is something I have been consistently doing since I was a child. I was never very involved in sports. Theatre has always been my safe place to express myself.
I did not know at this time how much Backstage would do for me. In fall of 2017, I was cast in my first musical on campus, called It Shoulda Been You. This was my first taste of just what an amazing opportunity that this would be for me. During It Shoulda Been You, I gained knowledge on how Backstage Theatre runs. Backstage is a student-run organization funded by the Student Government Association. It is governed by an executive board that leads the club. There is a general meeting once a month to talk about upcoming auditions, events and ways to get involved in the community. There is an executive board meeting once every two weeks, to discuss ideas and planning for upcoming events.
After It Shoulda Been You, I figured I would really like to be able to lead the club as their vice president. I was elected VP and started my journey of knowledge and experience. When I first was elected, I really did not know what I signed up for. It was a lot of work and time that I needed to dedicate. But for me, this was important. Theatre is my home. It is so important to me to give the students of Farmingdale State College the sense of belonging that Backstage can offer. In this year of being the VP, I worked on Twelve Angry Jurors; Disaster! The Musical, and a cabaret.
Obviously, I did not work on these productions alone. I worked together with the executive board for many hours, planning and executing each show. Disaster! The Musical I co-produced and acted in the show. This was a challenge for me. The juggling was a lot for me to handle, but I powered through and performed a successful show. I learned all the types of things that cannot be taught – costume designing, stage managing, and producing a show.
The executive board and I put together an entire show by ourselves. Our director directed the show, but we did everything else. This past year, I was elected the president of the Backstage Theatre Company. This meant that I was the leader of our company. We first performed Almost Maine, and I was the Assistant Stage Manager for this production. I had never stage-managed before, so this was a new experience for me. I worked with our stage manager on the placement of the set during the show, and then led the stage crew. I had never held a technical theatre position before, so this was a wonderful opportunity for me to get involved and to do something I would not regularly do.
In the same semester, I produced and starred in She Loves Me. This is a 1920's musical, which is referred to as a period piece. We rented costumes from a local costume shop and creatively re-fashioned some of our costumes we already had. I took a very big role in planning for this particular show. Backstage had previously never performed a period show before, so it was a challenge to put all the pieces together. We worked with our director, musical director, set designer, and lights and sound company to successfully perform the show. I worked extremely hard on this show, and learned so much about how to execute producing a large musical.
The Backstage Theatre Company changed my life by offering me so many opportunities to learn, while still achieving my degree. I have gained so much hands-on experience and made the greatest connections, and I have the Backstage Theatre Company to thank.