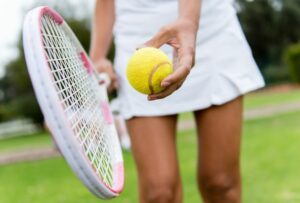 Sports have always been a huge part of my life, and who I am as a person. All throughout high school I was a very active athlete. I was a two-sport athlete who played tennis in the fall and lacrosse in the spring. So naturally, when I decided to come to Farmingdale to further my education, I knew I wanted to play a sport and be involved in the athletics program.
I decided my senior year of high school that I wanted to try out for the Farmingdale women's tennis team. So the summer before my freshman year of college, I got into contact with the coaches for the team, and made sure that I had all of the appropriate paperwork done, so that when try outs happened in August I was all ready to go. After coming down for try outs and making the team, I didn't realize at the time how much of an impact being on the team would have on me, giving me some of the best memories and amazing experiences that I could have throughout my college career.
Being a part of Farmingdale athletics has allowed me to meet amazing people that I would probably never have crossed paths with. I have made lifelong friends and have created many beneficial relationships that I know will last a lifetime. It has taught me how to work well with others, and really be a team player. There will be days where we have matches and not everyone gets to play but we still support each other on and off the courts.
One of my favorite things that we do throughout the season is our overnight trip. We usually take one overnight trip during the season, where we go and play two or three schools that are a few hours away. This trip is one of the things I look forward to and enjoy the most about tennis, because we really get to know one another and make so many fun memories. From hanging out in each other's hotel rooms, going out to eat and playing the game we all love. These are just some of the experiences that make being a part of this team so valuable to me. Spending so much time together over the course of our three-month season, you literally have no choice but to become close to one another.
Along with this, tennis is also a great stress reliever after having a long day at school. Most days I look forward to knowing that I have practice later, or that I have a match to go to after a stressful day. It provides a great outlet for me to focus on something other than school, even if it's only for a short amount of time. But playing a sport also comes with the task of being able to juggle all your responsibilities. Being a student athlete has, without a doubt, helped me learn how to manage my time more effectively. I find that I even do better in school during the main semester that my season is in, because I'm forced to make specific schedules to help me keep up with everything that I need to do. Between going to class, practice and finding time to study and do school assignments, it can all become a little overwhelming.
My coaches are very good with helping us schedule our various responsibilities and time commitments on campus, to ensure that we excel throughout the semester. They understand that we still have other things going on, like work and being involved in clubs on campus.  My coaches offer us various tutoring resources, even offering their own time and expertise if you happen to be taking a class in a field that they worked in. They never fail to let us know that school should always be put first, and that that is the most important thing overall. Yes, it is great to be involved in things within school, but the main reason that we are here is to be a student.
I am very grateful that I was given the opportunity to be a part of something so great, with people who really do care about me and where I'm going in life. Being a part of Farmingdale athletics is more than just being able to say that you're on a sports team. You have so much support from so many faculty members and other students on different sports teams as well. It is an experience that I will always be thankful for.