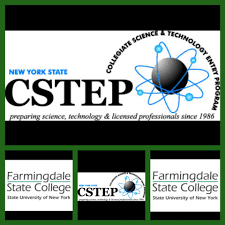 What is CSTEP
The Collegiate Science and Technology Entry Program, also known as CSTEP, was implemented by the New York State Department of Education to provide support and exposure to STEM fields to undergraduate students. CSTEP's goal is to increase diversity in STEM fields by providing guidance to historically underrepresented and economically disadvantaged students. Students eligible for the program must be pursuing a career in science, technology, engineering, mathematics, and health-related professions. CSTEP takes great pride in grooming its students to pursue higher education and to enter their prospective fields.
Through state funding, CSTEP provides academic enrichment and research experiences. These experiences include internship opportunities, graduate/ professional admissions counseling, professional development workshops, and more. Additionally, the program is available to students during the semester and even throughout academic breaks.
Fifty-one higher education institutions across New York State offer CSTEP. Farmingdale State College is one of the very institutions that host the program.
Farmingdale's CSTEP
Knapp Hall is one of the least-frequented buildings on campus. However, inside there is a hidden gem. Farmingdale's CSTEP program is located on the first floor of Knapp Hall.
When you walk into the office, you are walking into an academic-driven setting, but also a well-knitted family. There is amity between every student, and we all come together in our shared zeal to become high-achieving professionals. To guide and assist the students, the CSTEP staff is composed of qualified and eager individuals led by CSTEP Director Risa Stein. Risa Stein has been the recipient of the Phenomenal Womyn Award, which is awarded to a female staff member for their accomplishments and contributions to the Farmingdale State College community and society.
Farmingdale's CSTEP program offers additional unique services, such as book scholarships, peer tutoring, graduate school tour, leadership retreat, academic workshops and more. Students of the program also participate in out-of-school activities. CSTEP students have gotten into the community and participated in beach clean-ups, and started a campus-wide food drive. Students in the CSTEP advisory board proposed what was supposed to be an in-house food drive. However, it ended up expanding to other programs and departments around campus. The food drive finished with more than 1,000 dollars' worth of food, to be donated to the local St. Kilian's Church, where it would be used to serve the least fortunate.
We are also always searching for new members to join our family. Requirements include being a full-time student, pursuing a career in a STEM field, good academic standing and coming from a historically or economically disadvantaged background.
 Who are Farmingdale's CSTEP students, and what are they doing?
The answer to that question is literally everywhere and everything.
The past student government president and the current SGA president are CSTEP members.
The recipient of the 2019 President's Award for Student Leadership, one of the highest honors bestowed on an FSC student, is a CSTEP member.
The SGA director of public relations is a CSTEP member.
The only and first Latina vice president of the computer programming club is a CSTEP member.
A senior CSTEP member was just admitted to a Ph.D. program at Binghamton University, for Biomedical Engineering.
The first African-American female president of the American Society of Mechanical Engineers @ FSC is a CSTEP member.
Three members were recently accepted to the prestigious Brookhaven National Lab summer research program.
CSTEP students are participating in research on campus in entomology, virtual reality, molecular biology, biomedical engineering, and more.
Four members are in the NYU Pipeline Envisions Scholar Program, and several members are alumni of the distinguished Summer Health Professions Education Program.
CSTEP students are Rambassadors, resident assistants, RAM scholars, sorority and fraternity members, athletes & more.
What has CSTEP done for me?
I remember I was walking on campus during my senior year of high school. I was with my father, touring the campus. We saw a staff member passing by, so we stopped and asked for directions. The person I encountered was Risa Stein, the CSTEP program coordinator. Little did I know that encounter would be a life-changing one. She encouraged me to apply to the program, and from there, my journey started. My first experience was the Summer Bridge program. In Summer Bridge, several incoming first-year students spent two weeks in the resident halls, participating in trial college courses, which were intended to give students a general idea of what's to come. Along with the classes, students participated in bonding and networking opportunities. To this day, people from my Summer Bridge cohort remain my closest friends.
I have put to use several of the resources CSTEP has provided me with, such as professional etiquette, the interview process, and lifestyle workshops. This past summer, I was selected for an internship at the University of Nebraska Medical Center, where I attended the Summer Health Professions Education program. This internship connected me with a network of nursing and medical professionals, and provided me with an unforgettable experience.
This is just a small glimpse of what CSTEP has done for me. As my collegiate journey is still ongoing, it is also coming to an end. While it saddens me, I thank God for the opportunity that I was given. Lastly, to the New York State Department of Education and Farmingdale State College, Thank You for CSTEP!!