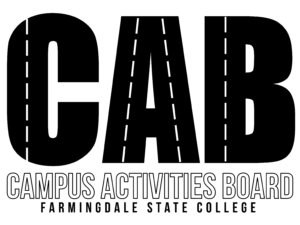 CAB, Campus Activities, "the club that does all the big events" – Campus Activities Board goes by many names. But I know it as my home.  Campus Activities Board, also known more commonly as CAB, is one of the largest and oldest recognized student organizations on campus.  The club is open to all students who pay the mandatory student activity fee. The CAB office is located in the Conklin lounge, adjacent to the vending machines and table tennis area.  It is definitely the best place to visit if you want more information on how to join, or as to when the meetings are scheduled.
I joined CAB a couple of years ago, because at the time I made some new friends in the Campus Center and they all happened to be in it.  I really had no clue what it was about or what to expect, but after the first couple of meetings that I attended I fell in love.  Everyone was extremely friendly and courteous, and it was a very open and welcoming environment that I felt comfortable expressing myself in.  The events were a breath of fresh air and very lively. The amount of people that I have met just through CAB events alone is impressive to say the least.  Little did I know that I would be making a big impact on our campus in the near future, and eventually rising up the ranks to President of CAB, the position I've been currently holding for about a year and a half now.
Let me start off by saying that the stereotype isn't true. It is certainly possible to make friends, be a part of one or more student clubs, while still maintaining a solid GPA. But that also doesn't mean that you can just slack off and join any club you wish to at the same time.  The minimum requirement for joining student organizations is a 2.0, also known as being in good academic standing.  There are checks made by the Office of Student Activities each semester to make sure that students are academically qualified to maintain their status in a club, whether it be a regular member or executive board.  The executive board, or e-board for short, consists of a President, Secretary, and Student Government Representative, who attends Student Government meetings and reports back to the CAB members.
As President of CAB, my primary role before any of my other duties is, of course, to make sure that the club is running smoothly and is functioning at its highest potential at all times. My daily responsibilities include running our weekly meetings, making sure that our budget and financial status is accurate and up to date, as well as organizing and planning events with the assistance of the rest of the club members, also known as "cabbies."  CAB meetings typically host 15 to 20 members in the Conklin meeting room, and a majority of our recruitment is done through avenues such as social media and the involvement fair.  The involvement fair is held every semester towards the beginning weeks, and hosts over 70 organizations.  It's safe to say that involvement fair is the place to be if you're looking to get involved here at Farmingdale State College.
Events, events, and even more events. That's why we're talking about CAB, right?  CAB hosts popular events across campus, such as Karaoke Night, Coffee House Night, Movie Night, BBQs, as well as our Supernatural week, which features Illusionists, Hypnotists, and even Psychics.  Just this past Saturday, on November 2, we took a trip with 50 students to Six Flags Great Adventure's Fright Fest.  The transportation, meal vouchers, as well as park admission was all covered for the mere cost of five dollars per student registration.  You're probably wondering how it's possible to have all these enormous events on campus on a weekly basis, and the answer is quite simple.  Each student is responsible for something called a "mandatory student activity fee" on their tuition bill.  This $100 fee that gets renewed every semester is collected into a pot of funds, that is then distributed to all of the active clubs on campus.  By doing this, each student that attends Farmingdale State College is contributing to an experience that is greater than just simply attending class and returning home. They are collectively assisting in changing the narrative of a commuter school altogether.
CAB holds a special place in my heart, without a doubt. Joining as a curious sophomore, and now being able to assist in running the club as a senior, was an incredible journey I never thought I'd partake in when I arrived at Farmingdale State College.  I would not trade the memories and friendships I've made over the years for anything.  CAB has helped me grow tremendously as a person, and showed me both the value and results of what hard work and determination can create.  As I prepare to graduate in the spring, I may be leaving CAB behind, but I will never forget the legacy that I've created with the help of my cabbies.  So, I depart with just one question…what's your legacy?