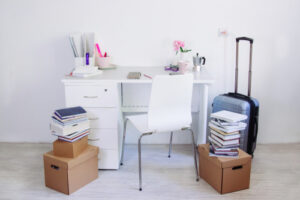 Moving into the dorms can cause a lot of mixed emotions. At Farmingdale State there are three on campus – Orchard, Dewey and Alumni. Living on campus means you get to have a lot of independence. For me, every time I moved into the dorms there was a feeling of excitement and anxiousness, as I have independence from my family and feel anxious about meeting my new roommates, and wondering if I have everything I need. This is some advice for incoming dorming students.
Check your paperwork  
Be 100% sure you do not need any shots, have paperwork signed and approved, etc., few weeks before the move-in date. Make sure you have all the proper paperwork filled out a few weeks in advance. This gives you time before you move in to get everything in on time, for the Financial Aid or Residence Office to process your paperwork before the frantic rush of people a few days before they move in. I know a few students, including myself, that thought they had everything together, but ended up with a delayed move-in because a few pieces of paperwork or financial aid forms change. Worst-case scenario, you could lose your room assignment and be put on a waiting list. You should also re-read everything related to housing that the residence office sends. There is a list of items that are not allowed on campus, like irons, wall lights, hot plate, etc. So avoid these items so they won't be confiscated. Pay close attention to check-in times, dorm hall, room number, and procedures for dorm move-in day.
On move-in day
On move-in day it is particularly hectic, with so many people moving in at once. Make sure you have your Farmingdale State photo ID on you, and proper forms on your moving day for things to move more smoothly. There is a move-in time specified for you because you need to move in while there is a Residents Assistant (RA) or Residents Director (RD) present. Athletes and international students are able to move into the dorm a week or two ahead of time. If you need a specific time to move in you can always work something out with the Residence office. When you arrive on campus with all your belongings, follow the instructions given by your RA. If you need help you'll unload all your items,and there will be student helpers on specific move-in days. If you have an additional person with you, or student helpers on hand, one of you can stay with your stuff while the other starts carrying things into your room. Wear comfortable clothing and shoes, as you will be carrying all your items, boxes, and bags, and going up and down stairs and waiting for the elevators.
Upon entering your room there are a few papers to fill out, including a paper that could save you a lot of money and trouble at the end of the year. It is a paper that you fill out if there are any issues in your room before you move in. An example is one of the drawers on the dresser isn't pulling out. That's where you would fill out a work-order form so it can be replaced or fixed.
Get contact information 
When you meet your roommate or suitemates, get their cell numbers in case you ever are in trouble or get locked out. If you lose your key or are locked out, after a certain amount of time you have to pay a large fee to change the locks. You may change roommates about a few weeks after you move in.
Room items 
You may find you need to go to Dollar Tree, Target, Wal-Mart, etc., after you unpack. They are located on Route 110, which is the highway in front of the college, if you need anything like storage bins. You should also go grocery shopping to fill your mini-fridge or a bin. They will come in handy when you're up studying late, or when it is way too cold outside. It is a good idea to take any excess items and keep them home. You do not want your room to become cluttered. By the end of the year you will realize how much stuff you have accumulated that you didn't bring from home.
Here are some essentials for your dorm room that you might need for the year.
Proper bedding

This includes XL twin sheets and comforter, with optional mattress foam for extra comfort.
Make sure you bring extra blankets. It can get very cold in the rooms.

Surge Protector

There are a very limited amount of plugs in the rooms. This item makes plugging in very convenient.

Mini-fridge

Mini-fridge is a great way to keep drinks cool, and gives you the option to buy perishable food.

Shower caddy

Having a sturdy shower caddy makes it very easy to carry around your bathroom and beauty items, especially if you live in Dewey or Alumni Hall, where the bathrooms are more open.

Laundry basket

Laundry basket is essential to any room. I would suggest to get one with wheels, especially if you live far from the laundry room. It will save you some heavy lifting.

Storage units

Provides extra storage if needed.

Mini medical kit

It is always good to have a medical kit, just in case of minor emergencies.

Mirror

The only mirrors in the dorming halls are the ones in the bathroom. Getting a mirror from Wal-mart or Target can insure you that you can check yourself out without hogging up the bathrooms.

Cleaning supplies (Mop or Swiffer, broom and dustpan, etc.)

It is always good to have cleaning supplies to keep your room or suite looking good, especially for monthly inspection.

Kitchen supplies

Even if you do not cook it comes in handy to have basic cookware, like pot, pan or baking sheet.
This includes eating utensils, plates and bowls.