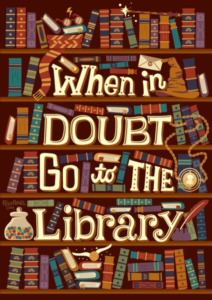 As finals week comes to an end most of us have either spent many long days in the library or felt like we didn't spend enough time there. For some of us we were in the library longer than we were in our own homes. If you did not spend enough time there, no worries. Next semester you can spend more time, and you are going to need some tips. Being prepared is the essential key to being successful. This is why every student needs a guide to how to survive the library. (Insert Twilight Zone music.)
Fun fact – did you know that some students don't know the building name for the library? The name of the building is Greenley Hall, and in the building there are many services you can take advantage of. We provide textbooks, articles and many other books. Did you know that you can find books, articles, and eBooks right from the Farmingdale website? If you click on the library button right above the search bar you can look up and find what services the library provides.
First tip is to look up the hours for the library. You do not want to get there right before they close. Monday to Thursday it is open from 7:45 a.m. to 11 p.m. On Friday it is open from 7:45 a.m. – 5 p.m. On Saturday and Sundays the hours are a little different. Saturday they are open from 9 a.m. – 5 p.m. (I always mentally hear Dolly Parton singing this) and Sunday it is open from 1 p.m. – 9 p.m. Don't worry for finals week – the library is open until midnight, Monday through Thursday.
Being successful in Greenley means you need to bring all the things you need to get your work done. First is to make sure you have all of the books and materials you need. This includes loose-leaf, computer, index cards, and for some of us, different colored pens. Some other things you should bring are your phone chargers and your laptop chargers. Some may say "I don't need my laptop charger. I'll sit at one of the computers." This is not a good idea. You may want the ability to move around in the library. Sometimes by the computers it not as quiet as you want it to be, and you want to move. If this occurs, you can borrow a laptop provided by the library. It is the same as checking out a textbook. If you forget your phone charger you can use the charging lockers or you can borrow one. All you have to do is ask one of the librarians. While doing work, headphones may be needed; it may get loud in certain areas. If you don't have headphones, the library circulation desk provides ear plugs. When working at the cubicle or at the whiteboards you can borrow dry erase markers from the circulation desk.
One essential thing to bring are SNACKS! If you are like me and am in the library from open to close, snacks are essential, as well as a giant cup of coffee. When more than a snack is needed you can always bring lunch with you. You will not be productive if you are hungry while trying  to do work. If you don't have food, Books 'n Beans is open from Monday to Thursday.  When Books 'n Beans is closed and you want food, you can always get food delivered to the library building. They won't come into the building, but you can pick it up outside. If you are in the library after 8 p.m. during finals week, coffee and cookies are offered.
When in the library, seating location is by preference. Some like the basement because it is quiet and you can sit facing the wall, which is nice. You can sit on the first floor at the computers or at the window. Another option is to sit upstairs in a booth, cubicle, or table. There is a silent lounge located upstairs as well. The second floor silent lounge has a staff member on duty to ensure that the room is silent. There have even been complaints that the room is too quiet, and the computer keyboards are too loud. You can hear a pin drop.
Surviving the library may be hard, but it is not impossible. When working with a group of people the library can be a fun place. All of the people working within the building provide you with all of the tools you need to succeed!. GOOD LUCK!