It's very easy to make healthy eating choices on campus. Farmingdale has so much to offer. Let me tell you a little secret about me. I follow a plant-based diet. This means that I don't eat meat, eggs, or dairy. I've been doing this for health/ethical reasons for the last three months and I've never been more satisfied, despite the seemingly limited options. If you have certain dietary restrictions, don't worry! There is always a way to make it work.
When I first came to Farmingdale as a Freshman in Fall 2015, I was amazed at the wide variety of eating options on campus. I spent a lot of time hanging around campus in between my classes. On some days, I had my first class at 8:00 a.m., and my last class until 5:45 p.m.! It was hard for me to find a healthy lunch. I didn't have the time to meal prep at home so instead I would buy lunch at one of the various food locations on campus. My goal was to stay away from junk food and still have a satisfying meal. I took a nutrition class in my Spring semester called BIO 125, Principles of Nutrition. Out of everything I learned, the most important was that healthy eating is about moderation, variety, and balance.
Books n' Beans – The Books n' Beans café located in Greenley Hall is a great place to get your work done and grab a bite of food while you're at it! There are tons of lounge chairs, computers, and an in-house Starbuck's location. This place is very popular for a coffee break for students who are studying hard in the library. Besides coffee, there are a lot of other things you can buy over at Book n' Beans. The refrigerator has a variety of sodas, juices, iced teas, and energy drinks. There is also a pantry section filled with different healthy snacks such as granola, mixed fruit, and protein bars, to name a few. The fresh food is in the refrigerator, where they have a wide assortment of sandwiches, salads, and sushi. Lastly, the register has all sorts of different chewing gums and candies. For a nice healthy lunch, I would personally stick with a salad with some mixed fruit on the side. You can mix and match however you want.
Campus Center Mark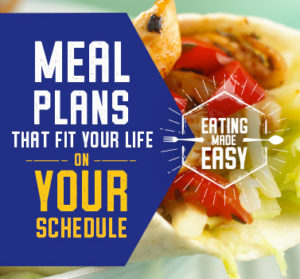 et – The Campus Center Market is where you will find tons of different food, ready to order. Among Burger Studio, Street Food, the pizza station, and the refrigerated sections, you'll never get bored. You can go with a veggie burger or a grilled chicken sandwich from Burger Studio. You can get sushi, a salad, or a sandwich from the fridge. There are all types of healthy snacks such as protein bars, fruit bars, and different healthy drinks, such as almond milk, soy milk, and protein shakes.
Pop's Dinin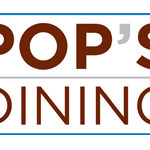 g Hall – This is where I spend most of my time because I am a resident on campus. All residents have a meal plan but commuters can eat here for $10. There are different stations: Pizza, Deli, Sizzle, Home, Grill, and the salad bar. Hot fresh pizza is always available. Deli sandwiches are made to order and you can even have them heated up in a panini. Sizzle does different soups and salads. The home station is where I always get my meals. There is always some type of vegetable, carbohydrate, protein, and healthy fat, and they always switch up the menu. The grill has grilled chicken, burgers, fries, or bacon and eggs for breakfast. The salad bar always has different fruit, vegetable, and pre-made salads. This goes well with a soup on the side. In the corner, we also have a soy milk machine, waffle station, fountain drinks, and cereal and milk.
The bottom line is this. If you want to eat healthy there is a way to make it happen on campus. You have so many different choices available to you. For the same price, you can make the healthy choice, or choose junk food instead. It all comes down to how disciplined and consistent you can be with your decisions. Once you get in the habit of eating healthy, it's almost automatic. I encourage everyone to take advantage of the different healthy eating options on campus. I have faith that you will!