Starting college can be an incredibly stressful time for many students. It does not matter if you are starting your first semester after graduating from high school or transferring from a different college.
The feeling of uncertainty is common for everyone. This includes students that are focused and have planned their entire academic paths or those who have not decided what course of study is right for them. We all need time to acclimate to college with all the feelings and emotions that come with it.
Farmingdale State College (FSC) has many support services to help students with this transition and help current students to succeed in all aspects of their education and training at FSC. One such place is the Disability Service Center (DSC).
New students requiring reasonable accommodations often have added stress and anxiety about their futures. The DSC staff understands this and makes every effort to be welcoming, informative, and supportive in a most collaborative manner. The Disability Services Center's brochure states, The DSC is "committed to equality of opportunity for students with disabilities to participate and benefit from all of its programs, services and activities."  This pledge reinforces the fact that the DSC is not just someplace to go and take a test or to hand in paperwork. The DSC assists students to be successful self-advocates. The center offers so many important services such as providing academic support/ tutoring, academic and career advisement, peer mentoring, writing support, and community referrals. As well as, providing students with access to state of the art assistive technologies just to name a few.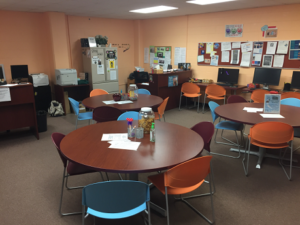 FSC is one of the larges technical colleges in the SUNY system and consistently stays on the cutting edge of technological advancement. This is not contained to academic programs it is true for all aspects of life at FSC, including the DSC and how it delivers services. Students are able to take advantage of assistive technology, computers, "books in alternate formats", software, such as dragon, and smart pens.
An important part of college is making social connections and meeting people with differing experiences and opinions. Something truly unique to FSC's Disability Services Center is their Learning Lounge. The DSC's learning lounge offers an opportunity for students to socialize with each other in a positive atmosphere. Here, students can work collaboratively, socialize, study or just do something as simple as check emails on the many computers available for student use. Students describe the lounge as "comfortable" and "a great place to chill" as well as "a place to make long lasting friendships."
If you are a current student who has only gone to the DSC to file accommodation forms, I encourage you to come on in and explore all the wonderful things the center has to offer. All new students enrolled into the department are encouraged to participate in the free "Boot Camp orientation" held every summer. Students may also make an individual appointment. If you are a new or prospective student needing reasonable accommodations, I hope I will see you at The Disability Service Center in the future!