Office Hours – Take advantage of your professor's office hours.  This is the time when you can meet them for a one on one interaction and it serves as a great opportunity for you to go over any material you missed, air your concerns, review an exam, or just chat.  Building relationships with your professors will benefit you in the long run, as you are more likely to excel in class, and they may also even serve as a valuable future reference!
Tutoring – Not everybody is a natural when it comes to getting good grades.  Some people must put in a ton of work to excel in difficult courses.  We all learn in different ways.  The good thing is though, there are tutors available at your disposal for almost any subject.  Spend a few hours in the tutoring center and watch your B's become A's!  Even better, you can become a tutor yourself if you excelled in a course and meet the requirements to teach others.  Good luck!
Books & Beans – So you've been studying at the library for a few hours and you start feeling hungry, or thirsty.  You are debating if you should leave campus during your break in between classes to grab a bite to eat.  Well luckily you have a wide variety of refreshments at your disposal right across the hall from the library!  The Starbuck's Books & Beans Café has fresh coffee, sandwiches, sushi, and more.  Better yet, you can use your declining dollars balance to make transactions if you load your student account with funds in advance.  No more walking around with cash!
Career Center – The career center is where you can get help with your development as a professional.  This place will serve as a way for you to acquire internships as you become an upperclassman and start looking for job prospects when you graduate.  You can also get help with creating a resume or making a LinkedIn profile.  I went to the career center myself this semester when I needed help with my resume and I met with one of the career counselors, Cheryl, and she helped me write a killer resume.  You can too!
Library – The library is a tremendous asset at Farmingdale State College.  Also known as Greenley Hall, this is one of several social hot spots on campus.  In the basement, the library has the AAIC, books that you can borrow for weeks at a time, as well as reference material.  On the ground level there are dozens of computers with printing access, textbooks you can borrow from reception, and even muscles/bones if you are an anatomy and physiology student!  The second floor is where most of the hanging out takes place.  There are group study rooms, booths, lounges, bathrooms, and drinking fountains.  Greenley Hall is so full of resources that you can literally spend hours at a time, and not even notice.  Take advantage!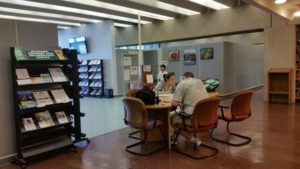 Quiet Study Room – The quiet study room is so silent at times that you can literally hear a pin drop!  Okay, maybe not.  However, even with dozens of students in the room at any given time, everyone is respectful of the rules and you are guaranteed to have a calm place to study any time you go to the quiet study room.
Conclusion – I've only listed a few of the benefits that you will find here at Farmingdale.  Don't forget that there are countless more.  Better yet, you can be the next person to create a successful club/organization at Farmingdale!  The main idea is to get involved, to take advantage, and to make the most out of your college experience.  Don't be shy!