Although I'm a Sophomore now, this is my first year as a resident.  I commuted to school last year for Freshman year before moving Upstate this past summer.  I'm glad I was able to get comfortable with the campus for one full year before moving into the dorms.  Living on campus can seem like a pretty big leap, but I'm here to tell you, that you will be able to manage.  This is the story of my first experience living on campus.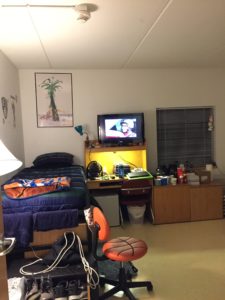 I was incredibly nervous on Move-In Day 2016.  I remember it so clearly.  It was a sweltering hot Summer day, Sunday August 28th to be exact.  My parents and I had been driving for almost 8 hours the night before because we live far away in Upstate NY.  My car and my mom's was loaded up with all of the college essentials such as the Mini-fridge, toiletries, linens, clothes, TV, and my Playstation 4, to name a few.  We stayed in a hotel about 15 minutes away from the school.  Let's fast forward to the next day.  It's 3:30 p.m., my assigned check-in time.
I was extremely anxious.  This wouldn't be the first time I was living away from home because I went to sleep-away camp for one week Upstate when I was twelve years old.  Nevertheless, I don't count that because it was only one week and it hardly compares to moving onto campus for months at a time.  It did help me prepare somewhat however for campus life. Anyways, I was tired from driving the day before, and I was already missing my family; my Mom, my Dad, and my two dogs and cat.  I had such an amazing summer with my family and my pets, my part-time job at a nursery, and an overall peaceful existence in the middle of the Adirondack mountains.  Now, I was thrust into college residence life, not sure if I was ever going to fit in or feel comfortable in my new home.  There were people everywhere, many of whom I didn't recognize.  Families were gathering all around the lawn in front of Orchard Hall.  Mothers cried tears of joy, and fathers were helping with some of the heavy lifting.  Students were putting refrigerators, TVs, and sound systems in large green bins to be wheeled into the dorm rooms.  I could not for the life of me believe how crowded Orchard Hall was.  Now that I've been living here safe and sound for over a month, it's hard to imagine how occupied it gets every year on Move-In Day.  Hopefully I'll never have to wait 20 minutes ever again just to use the elevator!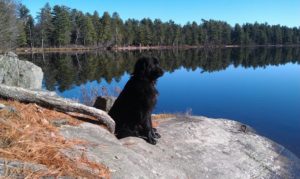 Now my room is set up.  I'm stocking drawers, and my mom helped me put the sheets on my bed while me and my dad were going back and forth emptying out our cars.  We all collaborate and decide how the room should be organized.  We spent about an hour in my room relaxing and reminiscing over our Summer memories once all of the moving was done. Then we said our goodbyes.  I knew it was going to be hard as soon as my parents left.
Now it's about 5 p.m.  I'm all on my own now.  I still don't have a whole bunch of friends, and my roommate hadn't arrived yet.  I had no real priorities because class wouldn't start  until 8 a.m. the next morning so my main focus was settling down and getting used to everything that had just happened.  I headed over to the dining hall and eat my first meal, dinner.  I can't remember quite what it was but I was full afterwards.  Along the way back and forth from the dining hall I ran into a few people whom I recognized as well as introduced myself to new people who seemed approachable.  I soon learned through word of mouth that there was going to be an event later that night at 9 p.m. called ThinkFast, a type of trivia game show.  I spread the word to my new friends and we went.  Although we didn't win the cash prize, I had a good experience and it took my mind off the anxiety I was feeling, which is perfectly normal for any first-time resident.
By the time that was over, it was some time after 10 P.M.  I had nothing left to do that day.  I remember crawling into bed feeling so inexplicably strange.  My life had never changed so suddenly ever before.  It was extremely hard to fall asleep.  I was worried about tomorrow, worried about the semester, and worried about my parents.  I felt as though I wasn't ready for my new life.
Here I am now, happier than ever.  At the time of me writing this, it's almost Mid-October 2016.  I've been here for over a month and in that time I've made dozens of new friends, worked hard, had fun experiences, given tours as a Rambassador, and became more independent in general.  If you're feeling nervous, and it seems like you won't be able to manage, always remember.  I was in your shoes once.  So was every other first time resident student.  Never forget that there are tons of resources on campus designed to make you feel safe and secure.  Also, you can find pretty much every single thing that you need on Route 110 (Broadhollow Road).  Target is within walking distance, Walmart is down the road, and we have Adventureland across the street as well as movie theaters, Chipotle, Starbucks, you name it.  The rooms are cozy, and you have more than enough space to store the essentials.
In conclusion, your first time living away from home will help you grow.  It will help you realize how much you appreciate your loved ones.  For example, I won't be visiting my parents until Thanksgiving for 5 days, and then Winter break for one month.  I've never been away from my family for 3 months!  Living on campus makes you stronger physically (lots of walking), mentally (schoolwork), and emotionally (time away from family).  My college experience this semester so far has been nothing less than great, and I am absolutely prepared to finish my 4-year Nursing degree at Farmingdale State College as a resident.
Never forget, life truly is what you make it.  Should you decide to live on campus, I shall leave you with one major key.  Be positive!  Be willing to meet new people, and be willing to work hard to accomplish your goals.  It's experiences like this that make you who you are.