On March 8th, 2016 every player on the Farmingdale State softball team woke up at around 4:30 am both tired and excited. Today was the day we were counting down for. Warm and sunny Florida was only a few hours away. I was very excited to go on my first softball tournament in Florida. The night before I made sure I had everything I needed for the trip. At 4:15 in the morning I woke up and got ready to leave, I checked that my softball sweatpants and t-shirt, to make sure that I looked decent. As I waited for my father to arrive I was imagining what the trip is going to be like and anticipating when I could go back to sleep. As we boarded the plane we heard the excitement from everyone. Once we were in the air, everyone fell asleep or did homework.
Once we landed and left the airport we stopped to get lunch. We went to a pizzeria ten minutes away from our houses. We had delicious deep dish pizza and salad,  after that we headed to the houses that we were staying in for the week. The house was beautiful, all of the new players and a few veteran players were in our house, we had a kitchen, multiple bedrooms, a pool and grill. Excitedly we all picked what rooms we wanted to be in, and who we wanted to room with. We were able to take a trip to the grocery store to get all of the food we wanted to have for the week. We had a lot of junk food and surprising some healthy food. We were able to cook dinner, and we made a welcome to Florida dinner with everyone in the house. We were already having fun and it was only day one.
The next day we had our first day of games at The Osceola Softball Complex, which is the home complex to the professional team for the USA. We were very excited and ready to play two full games. This was the same routine for the next few days,we had long days in the sun, but it didn't matter to us. We soaked up the sun like it was a best friend that was lost. On the third night the other house invited us for quesadillas, this night was a lot of fun we were able to spend time together outside of the softball field. We got to know each other, it was very beneficial for someone like me, who was new to the team.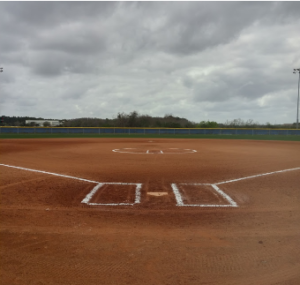 Saturday was the day we finally had the day off. Some of us decided to go to to Disney World. The question we faced was which park, we decided on Epcot. It was a lot of fun, we were able to walk around and eat all different types of foods in the countries. After eating we decided to go on some of the rides. Some of our favorites were Finding Nemo,  and Test Track. It was nice to walk around the park, there was a flower theme that week. Every area had a different characters made of plants. My favorite was the Beauty and the Beast section. It was an amazing day to bond with the girls.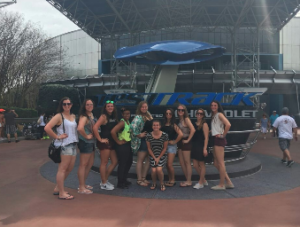 On sunday my house hosted dinner for the team. We grilled burgers, hot dogs and many other foods. We enjoyed hanging out with each other and eating good food. This would lead to our last full day in Florida. Monday was a day we were not looking forward to, we decided that we were going to play our best that day. The thing that made it very exciting to be at the softball complex was, a professional softball player was at the field next to us being showcased. We all secretly hoped that we would have time to meet her.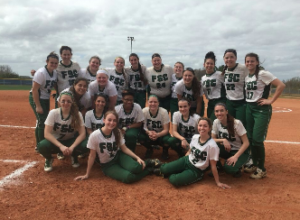 Tuesday was the day we headed home, it was a long day of cleaning and getting our items together. As we stuffed our belongings into our luggages we secretly prayed we did not exceed the fifty pound weight limit for our luggage. With our nicely burnt, or tanned skin, which was made obvious by our white shirts we headed to the airport. Here is where we would relax and study for when we came back our school, our work would be there to greet us. We all walked off the plane ready to go home, but happy about our amazing trip. This was a trip we would never forget, many of us may go again but for some of us it was our last. We made it memorable.