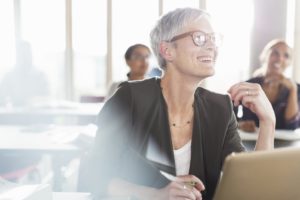 That question, my friend, can only be answered by the individual at hand. From my point of view, one never stops learning. I am one who thinks there is just a lesson in everything if you're willing to open your eyes to see it.  However, some think once you retire you are just left to sit at home and do absolutely nothing.  But the truth of the matter, in this day and age, everyone cannot afford to just sit at home.  Some who retire may need to obtain a job to cover expenses because their pension/401k may not be able to handle.  Some retirees may need medical and dental benefits and a lot of times the cheapest method, other than government assistance, is to have your employer share the costs.  With the technology constantly changing, some retirees may find the need to go back to school or brush up on a few subjects.  Farmingdale State College recognizes the importance of this and offers a few options for its retiree students.
What are the details of the program and what is offered?
The Institute for Learning in Retirement is the name of the program, and it has been serving the community for over 25 years. There are a number of things being offered that the Institute makes it more appealing for retirees.
All students are of similar ages and skill level
There are no long-term commitments
A membership is required
Is there a membership fee(s)?
Yes, there is a membership fee of $60 per person. This fee must be paid out annually.  Membership fees in the spring are cheaper, at $45.  All fees are non-fundable.
In addition, a yearly parking pass must be purchased for $11.00.
What is included in the membership?
Eligibility to enroll in ILR classes
Friday Lecture Series
Receiving advance mailings for all ILR-sponsored events
Opportunity to hold ILR office
How can I obtain additional information?
For more information or to receive a brochure, contact ILR@farmingdale.edu or call 631-420-2160.
If you are interested in becoming a member of the ILR, please  call the office at 631-420-2160. The ILR office is located in Thompson Hall, Room 119, on the campus of Farmingdale State College.
How long and often are the courses?
The students meet for periods of four or eight weeks, and once a week during the day.
How many lectures are there?
As of right now there are a total of 16 lectures per year. However, each member can choose up to six lectures per semester.
Where are the lectures held?
All lectures are on the Farmingdale State College campus.
https://www.farmingdale.edu/academics/centers-institutes/institute-learning-in-retirement/workshops.shtml
Who teaches the lectures?
All lectures are taught by expert teachers in various fields.
There are a few extra perks as well:
The retiree will be able to attend College cultural events, tours, workshops
Annual breakfast and luncheon
Are there additional fees?
Yes, in addition to your annual membership you must pay a small fee for each course.
How will I be notified of upcoming courses?
Brochures are usually sent out by mail, one for fall session and one for spring session. Should you not receive these details, contact the ILR department for more details.
Are there any other programs offered?
There is an additional program called Senior Auditing Program, which has a registration fee of $50. In this program individuals must be over the age of 60.
The student may audit one college class during the fall and spring semesters. They are available on a first-come first served basis while space permits.
No college credit is provided for these courses.
Books are not included. Students must obtain their own textbooks and materials
 How do you register for the audit program?
Review the class schedule page at https://www.farmingdale.edu/courseofferings/schedule.html. Weekend, online, and hybrid classes are not eligible for auditing.
Complete and submit the Senior Auditing Request Form. NOTE: Two seats must be available in a section for one senior to audit the course. You may specify two choices of classes.
You will be notified of availability by e-mail
How do you submit payment for this program?
Payment is due at least five (5) business days before the scheduled program. If you fail to pay, your reservation is subject to cancellation. Make checks payable to: Farmingdale State College.
Send check to:
Senior Auditing Program – Thompson Hall
Farmingdale State College
2350 Broadhollow Road
Farmingdale, NY 11735