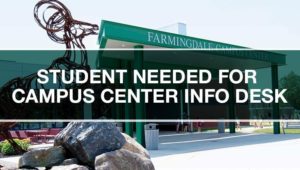 When I was a new student at FSC, I didn't know much about anything. I didn't know where a "cool" place to hang out was, where the best places to grab a bite to eat were, or even where I could make a few new friends. Instead of thinking about all these things I wanted to find something on campus that I could be a part of. As a new student, it was hard to keep a job off campus because of all the class work I had to accomplish. So, after quitting my off-campus job, I started to think outside the box – why not try to find a job on campus?
I started to look around campus and see where I would be interested to work, and I stumbled upon the Farmingdale State College bookstore. When I was walking through the Campus Center, I noticed that they had a help-wanted sign. I decided to walk in and ask for an application, and they directed me to the website and to apply there. Long story short, I got the job and three years later I am still as happy as I could be. Working on campus exposes you to your student body and it helps you with your communication skills. The bookstore also teaches you how to handle customer service situations as well as store operations. The bookstore also has fantastic staff discounts for its booksellers. The discount helps the staff a lot, especially if you are a student. Another opportunity the bookstore offers is something called the Bestseller program. The Bestseller program is for the booksellers or employees of the bookstore, and they become managers in training. Being a part for the program allows you to learn how each Barnes & Noble college store is run and what goes on behind the scenes. Lastly, the program also guarantees the bestsellers a managerial job after the bookseller graduates college. These positions may include Store Manager, Assistant Manager, Supervisor or a home-office position. I am currently in the Bestseller program right now, and I am so glad I took that opportunity. Not only am I working on campus but I am learning a lot of information about the company and how it caters to its college students. You do not need to be a Farmingdale State College student to apply to the bookstore, which is a big plus if you are looking to get extra money.
Another great place to work on campus that I discovered is the Campus Center information desk. The Campus Center information desk is a job opportunity found on the Ram Central portal. I discovered this through Ram Central and learned that this is run through Student Activities. The Campus Center info desk position is a position designed for a student at FSC. It is only available to FSC students, meaning no one outside FSC is allowed to apply for the position. The position's hours are flexible and easy to work with. The positions requirements are to answer questions by a guest, student or staff; using AV equipment; help set up reservations; allow access to the meeting rooms and the ballrooms; answer phone calls; and conduct hourly rounds of the Campus Center. This is a great job for any student of any age because it teaches you fantastic communication skills. It helps you meet new people and understand their needs. This job does require a lot of attention on the inside of the Campus Center. As an employee of Farmingdale State College, you are the first face people see when they enter the Campus Center. It is very important to keep a smile on your face and to be as friendly as possible.
Being an employee at Farmingdale State College is helpful for an incoming student. It has shown me many skills that I will be taking with me for the rest of my life. Having communication skills is very important today. I feel like this generation is lacking in that, and these jobs are perfect for someone to break out of their shell. Each staff member is fantastic, and everyone is always ready to help you whenever you need it. If you are really stuck on a career or just looking to have a job, these two jobs are great for that student who is looking to gain communication skills and to reach their college audience in a whole different way. The FSC bookstore is currently hiring for the Fall 2019 semester, as well as the information desk, which is looking for certain hours. Check the FSC website for more details.