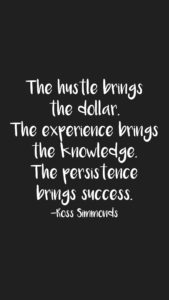 Gain the experience to succeed.
At the age of 16 I had been working non-stop, and then I got my first internship/job the summer of my junior year of high school, which lead into my first job. I'm now currently 20 and my job experience is quite full. I've had various jobs, some back to back, and working simultaneously. At one point I had four jobs, going to school full-time and still managed to still be sane. All friends would always be impressed, and just ask "How do you do it, Safwan?" I'd say "I tell myself the same thing."  Off my resume, I've worked as a gallery intern, programs intern, retail, part-time weekend warrior (Army National Guard), and more.  And the hustle is real – I work for both money and experience. I may still live with my parents, but I try to stay independent and not to rely on them as much.
As I get older it's good to prepare myself for the future to come, when I move out someday. But the main focus here is the experience you gain, and some things you just can't gain in a classroom.  Working in a gallery on the Lower East Side, I gained the experience to curate an art show, and after four years of working there I'm still learning something new every day and at every show to come.  And some of the skills I've learned there I can put towards other perspectives.  Curating is all about problem solving, and making sure things fit where they should.  Before I could make the connection, this goes down the line of social media, something I wish to pursue as a career.  The connection is that social media is just like curating.  Excect you're curating a virtual platform, and knowing what content to post, and how each post may look after the other. Understanding how everything you do can be made into connection.
And these things you can't really learn in a classroom setting. Internships and part-time jobs are necessary to build yourself, learn skills, and build your resume. Money is important, but always try to find something that will benefit you.  Sometimes the case is also an unpaid internship, and having a part-time job to have the income.  But come graduation, and when it comes to finding a job, it's you with the experience and the person next to you who doesn't have any.
In retail, of course, customer service is a skill you gain, as well as sales. As a marketer this is essential, starting small and not knowing when the chain of functionality drops down too.  As well as switching departments, something I've done in retail and working at The Whitney Museum of Art, knowing the functionality of how each department works, and how as a company or organization everything works together and the chain of roles plays its part to each other.
Between working four jobs and college, delivery was actually a down time for me. Delivering Vietnamese pho in Bushwick, Brooklyn was more of a cultural experience I gained.  Bushwick itself is now a hip place to be.  And delivering food I feel was one job any New Yorker has in their lifetime. My uncle back in the day delivered papers on his bike in the neighborhood.  AndIi thought that was the coolest thing possible.  Being in 2019 now, of course, paper boys don't exist anymore as time changes, but it's a cultural experience gained if you didn't it.  Some New York jobs that I can say are cultural to New York, are delivering, working in a pizzeria, freelancing. These are just some to say.  But delivering pho, I learned a lot about Brooklyn, Vietnam, and pho.  Chillin' with my friends after work, and feeling the vibe of things is an experience I'll never forget and I enjoyed very much doing.
But doing all that, I really reflect how I managed to do all of it. Now I'm just keeping small for now.  Working two jobs this spring semester and hoping for a new opportunity awaiting for a summer internship in something new.  Experience is the greatest knowledge you can obtain,  hustling bring income, but together it brings success.
Experience will bring you income and success. After graduation you'll have a degree and experience, and finding a job should come easy. Or better, building yourself further by going freelance or starting a business of your own. Take in the stories from your previous mentors and managers and leaders, and take in their back stories and learn from them.  Seeing the risk they've taken, and knowing their success, why can't you or I do it?