As a college student with no money and the drive to never be home, I was always conflicted on what I could do that was cheap and kept me out of the house for a while. Living on Long Island can be even more of a problem with most things being just a little too expensive. Although there are places that hold events certain nights of the week, like Two Dollar Tuesday bowling or Dave and Busters half prices games on Wednesdays. There isn't a lot to do any day at any time but that was until I learned about MoviePass.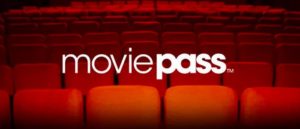 MoviePass is a monthly subscription to the movies. You can go once a day, everyday, if you would like, to any standard movie. All the consumer has to do is pay ten dollars a month! Ticket prices for movies are on average $12.50 for theaters on Long Island. One months use is already paid for with the first movie that you see. With so many new and great movies coming out all the time, it gives you so many opportunities to do something. It doesn't just work on the weekdays but also weekends too.
All you have to do is sign up online at Moviepass.com and they will send you a MoviePass credit card in the mail. Upon receiving the pass you will sign up and pay the first month's bill and then you can start using it right away. To be able to get a ticket you also must download the MoviePass app. You first have to check into the theater you are going to be buying the ticket from. You must be within 300 feet of the building and have clicked on the time you will be buying it for. All of this just helps MoviePass make sure you don't misuse the card.
Having a MoviePass will make a usually expensive night out half the price. You can go to the movies and not spend any additional money and make it a rather cheap night out with friends. But if you, like myself, can't help but buy popcorn and a soda, the expensive price of the snacks don't seem as bad when you don't have to spend anything out of pocket to see the movie. You can even spend some money on chocolate or an ICEE since you'd be saving so much money going to multiple movies a month.
An awesome thing about MoviePass is that you can watch new releases that same day. There is no waiting period since you're paying less or restrictions for it being a new release. If the movie is out and the theater updates their availability then you can get in the same day it comes out. With MoviePass still being new, there are new developments and improvements that are coming out all the time. Just this past month, MoviePass partnered with Landmark Movie Theaters and pass holders can now purchase E-tickets through the app without needing to check in at the theater first. It is still only available for same day viewing just like normal purchasing but gives the chance to snag a ticket before everyone else goes to the theater to get it.
MoviePass is helping bring back business the the movie industry. By bringing in customers on a more regular basis, the theaters will also see an increase in revenue because people are spending more money at the concessions then they used to. It is also a plus that most theaters now have very comfortable reclining chairs. But not to worry, if the reclining chair makes you fall asleep, MoviePass will help you see the movie all over again for no charge.