College is about figuring out what your strengths and weaknesses are. I remember when I was in high school, I was set on becoming a veterinarian- I took all the science, math and even interned at an animal hospital to get my head start. 17-year-old Aidan thought for sure, becoming Aidan Reilly DVM, was in the sights.
Major number 1: Liberal Arts with a focus on biomedical sciences.
Little did he know, entering his first college level anatomy and physiology class for humans, that would come to a grinding halt. During the first two years of college, I've battled some mental and physical health issues-which brought me to signing up for a couple of psychology courses- it was interesting to see the mechanisms of the human brain and learn about behavior and why we act the way we do. I've taken an interest in psychology to the next step- I've participated in a study at Stony Brook University on the effects of mindfulness in children with autism. I've also received an online mental health first aid certification from The Johns Hopkins University.
Major Number 2: Psychology
I was continuing my track with pursuing a degree in psychology until one morning, around 3 or 4am- I saw an advert on Facebook showing applications were being accepted for the Disney College Program. Disney has always been a company I've admired since I was a child- but knowing the prestige of the company and reputation, I figured I didn't meet their requirements. But with a little faith, trust and pixie dust (what do you expect?) I've been accepted for the Spring and Summer Disney College Program at Walt Disney World in Florida!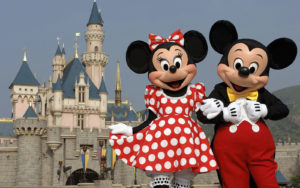 Major Number 3: Whatever gets me to a full-time career with Disney faster, man!
After successfully completing my program and realizing my place is with Disney- I've made it a goal to complete my degree in Professional Communications with a concentration in Psychology and return back to Florida to continuously make magic. Returning home to New York from Disney was definitely an adjustment, it's weird to go from seeing a castle and fireworks every night to seeing dirty skyscrapers again. But Disney wasn't done with me yet, they've offered me a temporary assignment as a coordinator at the Disney Store in Times Square! I immediately accepted the offer!
Disney is now my career path, which is something I thought I'd never say- I still say to myself, every morning, "I work for Disney" just to make sure I'm not in some euphoric dream. I've always aspired to help others and make people happy- Disney has given me the opportunity to do so- and I strive to continue. It's not bad having a mouse for a boss.
Have a magical day!