I still remember the day I got accepted in the college and I was officially ready to go to Farmingdale State College. It was a Dream accomplished for me and my family because there is a lot of sacrifices as to what I am today. My dad had big dreams for me, he is going to see me successful in days. I am blessed to have such a supporting family, they understand the effort and commitment we have in life and they also it takes to accomplish a goal. As a result they also have sacrificed everything in order to help fulfill my dream of studying abroad. I am significantly proud and honored as I will be the first to graduate in my family and the first person in my locality to obtain a degree outside of my country.
Being an international student, I had not set any goals or targets to achieve because I thought I would restrain myself from other things. I came here with a clear mind and focus as to what and what not to expect. Surprisingly, nothing was as I expected. Firstly, I had to come out of my shell to socialize with people so that I am not left behind. It was at the residence halls where I started knowing people, making friends, developing connections and make the most out of every opportunity I had. That is exactly what I did. At orientation, I met three beautiful people who were life Krishani, Jean Paul (JP) and Rosa. They gave me more information than just the orientation. I am an active person wherever I am, so I try to meet similar people who I can get along with. Hence on day one I was nominated as the secretary as the South Asian Students Association by Krishani and prof. Lori. It was something I was not expecting and I took it forward from there.
I participated in most of the activities and on campus like the club fair and open house, as a volunteer. At the Hall Olympics, an event hosted by the Residents Hall Association, we became the champions. In the Sand volleyball tournament hosted by the Intermural and Campus recreation department in which we also became the champions. In addition, I had the opportunity to participate in the Halloween party, Masti night, Longwood Gardens visit in Philadelphia, Empire state building trip, cirque du Soleil – a Broadway show, Madison square Garden for the Knicks vs Mets game and the Barclays center for the mavericks vs nets NBA games.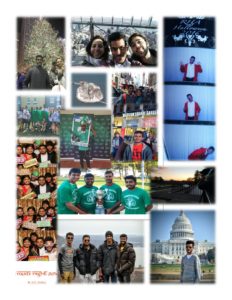 One of the most memorable trips of my college life was the one to Washington DC, The capital of United States. The Architecture and Construction Technology Club organized the trip. It was a three day trip and we saw various historical sites and government buildings like the White house, The Capitol building, The Holocaust museum, The National Air and Space Museum, and The National museum of African American history and culture. I learnt a lot about the US government, the constitution and the congress when we took a tour inside the Capitol Building. We went to visit various historical sites like the Lincoln Memorial, The National Mall, The Washington Monument, and The Zoological Park.
My other favorite trips was during the Thanks Giving break where we left without knowing our final destination and were able to explore some beautiful places like Rhode Island, Atlantic City, Albany, and the Bear Mountain state park. I also had the chance to set sail to Miami Beach during spring break as it was time to explore the southern shores of the country. Since I became friends with some aviation major students, my friend Jason Cordero took me around New York City by air, and we enjoyed the Arial view of Lady Liberty, saw the empire state, Rockefeller, Chrysler building, and the Hudson River.
As an international student at Farmingdale State College, I have been able to learn many things from different people, which has helped build my character. The Farmingdale community has encouraged me to try new things and has pushed me to bring innovative ideas to the table. It is IMPORTANT to enjoy your college life because once the experience over, it won't come back. Finally, it is very important to use all the facilities and the opportunities provided by the school, as it will help enhance your carrier and improve your overall experience. There is always something to be learnt from others, which can be applied to your life, so I encourage you to take the time and start meeting people.
I am concluding my blog by saying that "LIFE IS THE ART OF LEARNING WITHOUT AN ERASER" You should set high goals for yourself and achieve them. Scroll down to see some of my most beautiful memories at Farmingdale State College.