Ever-since I was ten years old, I've made it a goal to work for the most magical place on Earth: Walt Disney World! As an avid visitor to the property- working there has always been a dream.
Last year during Spring break, I went to California for a week to visit Disneyland and San Diego to look at potential graduate schools. When visiting Disneyland, I've become so much more interested in the company- seeing where the original magic was made, and to walk where Walt did was an amazing feeling as well!
During the summer for my birthday, I took another vacation to Walt Disney World in Florida, along with my parents and grandparents. I was devastated to leave and was rather depressed, wondering, "When will I have the chance to come back again?"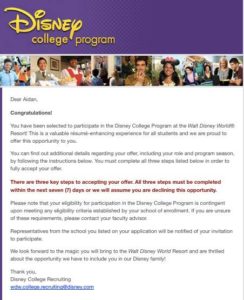 My grandfather suggested I apply to the Disney College Program, I scoffed at the idea knowing how selective it is and doubted I'd have a chance.
In September of 2016, it was probably about 3am, a school night as well- I was scrolling my social media and found a link advertising the Disney College Program and that applications were released. 
I took the leap of faith and applied.
Within the half hour of applying, I was immediately progressed to the following step of the application process: the web based interview, which most do not move forward from. To my surprise and great joy, I aced the web based interview and was able to schedule a phone interview, two days later: I spoke to someone from Disney recruiting!
The roles I applied for were as follows: Bus Greeter, Convention Guide, Attractions, Watercraft and Lodging. Using my skills and leadership experience as a senior Rambassador, I was hoping to be chosen for the convention guide role, which I talked most about with the Disney Recruiting team.
After the phone interview, I played the waiting game. Every hour, day and month felt like forever, but on September 29, 2016- I got the email that I've been waiting for:
Walt Disney World College Program: Congratulations!
I've been accepted for the Spring Disney College Program in Florida! So many emotions were running through my head, I realized I would be moving down to Florida for four months, working for a company I've respected ever since I was little. 
I've leased my first apartment down here in Florida and am experiencing real world situations such as paying rent, being self sufficient and *gulp* using public transportation!
The past few months as a Disney Cast member has been nothing short of amazing- recently, I decided that I did not want to leave in May, so I took another leap and faith and behold: I got accepted to extend my program to late July! The Disney College program has done so much for me, it made me realize what I'd want for a career, it improved my performance in being an exceptional employee and making sure that I provide safety, courtesy, always have good show and efficiently use my resources to ensure the guests have a memorable experience during their time here. 
Disney College Program is a wonderful opportunity to get your foot in the door with the company, thanks to the opportunities here, I've developed relationships, friendships and networking strategies that'll last a long time and I know I have somewhere to return to for full time employment.
I recommend applying!!!!
Aidan Reilly