Nursing Grad Bringing STEM Education to Kids
December 2, 2019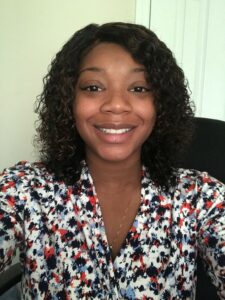 Catherine Justice
Catherine Justice '18 knew she was joining a good nursing program the minute she walked into Gleeson Hall several years ago. She had wanted to become a nurse since high school, and quickly recognized that a Farmingdale degree would give her an advantage.
"When I first applied to the Nursing program, they required me to go through steps prior to being accepted. I had to take an online test and interview with a faculty member. At the time I thought, if they're gonna make me do all of this, they must be serious about the students they recruit."
Dr. Denny Ryman, dean of the School of Health Sciences, and Dr. Lori Goodstone, chair of the Nursing department, are indeed serious about that, and they found a good one in Justice. Just a year out of school, she's a nurse at Long Beach Nursing and Rehab Center.
"In my position, I administer medication, act as supervisor periodically, update residents' charts with results and consultations, notify doctors on changes with the patients, and the list goes on," Justice says. "Never a dull moment."
Now, Justice rarely has a spare moment. She is Director of Strategic Planning at Millennial Scnce (sic), a not-for-profit founded by a friend that offers students from low-income communities free programs and resources related to STEM fields. It's a fancy title for a volunteer.

"In my position I search for potential venues that we can bring our program to," Justice says. "As well as planning future events that will appeal to and stimulate the children."
Justice is doing a great job so far. Last summer Millennial Scnce sponsored 10 events at three libraries. Now she has her sights set on bigger venues.
"Going forward, my goal for Millennial Scnce is to expand into the school education system. Next year, the goal is to be incorporated into two school systems."
It's a big leap, but anyone who has gone through the Nursing program with five appearances on the Dean's List has proven she has what it takes.
If you'd like to help bring free STEM education to school children, volunteer here.