It's National Heart Month. Donate Blood to Save Lives
Tuesday, February 19, 2019 10:00am - 7:00pm Campus Center Ballroom
Past Event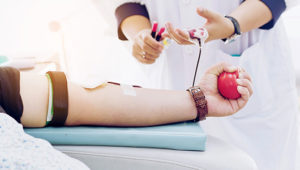 Did you know that up to three lives can be saved when you donate one pint of blood?
Donating blood is a safe, simple, and satisfying experience. More than four million Americans need a blood transfusion each year; someone needs blood every two seconds. No matter what your blood type, give a pint.
But before you do, be aware of the following:
Bring a donor card or ID
Minimum weight for donors is 110 lbs.
You must not have had a tattoo within the last 12 months
Eat well and drink plenty of fluids before donating
If you have questions about your eligibility, call 800-688-0900
For more information or to make an appointment, contact Nancy Smithwick, Health and Wellness Center; 631-420-2136.
Help spread the word. Print and post this flyer.
Published on February 4, 2019