Connect with Your Fellow Students at the Involvement Fair
Thursday, February 14, 2019 10:30am - 12:30pm Campus Center Ballroom
Past Event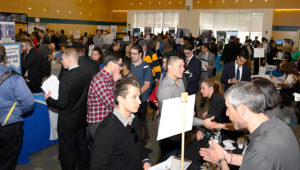 Want to find out more about the more than 40 student organizations on campus, or maybe you're interested in joining a sorority or fraternity? Then the Involvement Fair is for you. Representatives of all these groups will be on hand to provide all the information you need to consider becoming a member.
As a bonus, you'll have a chance to win FSC swag, gift cards, and declining dollars.
For more information, contact Lukas Miedreich; 631-794-6259.
Published on February 4, 2019