Managing Waste the Goal of the Innovation Challenge
November 12, 2018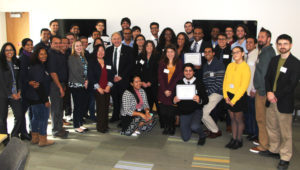 Students and judges at the Innovation Challenge
The theme of the event was waste. Not what you might think: wasting time or wasting resources. Rather, the topic had to do with waste management.
At this year's Innovation Challenge – a School of Business annual event that recruits teams competing to provide innovative solutions to urgent problems – 22 students representing six teams offered their solutions to the growing problem of waste management. Their answer to the problem had to be a model that reduced/reused/recycled/replaced waste; was a product and/or a service; and was created for markets such as households, schools, industry, etc. Teams had to create a presentation board and present their solutions to a panel of judges.
The first-place $1,000 prize went to "Scrap-it," a program designed to connect community members with local scrap yards, with the goal of building a network to promote recycling of various materials.
The second-place prize went to "Grey Matter Systems," which would redirect greywater – relatively clean waste water from baths, sinks, washing machines, and other appliances – for uses such as flushing toilets and lawn sprinklers.
Third place went to "Biocept," a system that processes sewage into biofuel. Fourth place presented "Cleanr," a waste management solution that uses computer-vision algorithms trained on deep neural networks to automate the trash-sorting process at waste management centers.
"The event was successful because the participating students from all majors got a chance to work together and provide solutions for a complex problem through innovation-development processes," said Dr. Betty Feng, assistant professor of business management. "Most importantly, the event enhances multidisciplinary collaboration and innovative thinking among our students."
The event was funded mostly by PSEG Long Island, which donated cash prizes totaling $1,250. The energy giant also provided judges for the event. E-Fest – a national event that celebrates undergraduate student entrepreneurs – also donated prize money, and provided the Challenge topic.