Math Student Places 3rd in National Mathematics Competition
November 12, 2018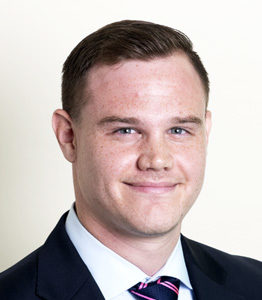 Joseph Bunster
Joseph Bunster '18 loves math so much that he expresses that love by quoting British mathematician/author Marcus du Sautoy: "Mathematics has beauty and romance."
Bunster, an applied mathematics major with a concentration in mathematical finance, rode that love all the way to Denver recently, for the U.S. National Collegiate Mathematics Championship – where he placed third in the nation.
"The math competition was thrilling and fun," Bunster said. "I have to thank the mathematics department, and my close relationships with professors such as Dr. Johnston, Dr. Neymotin, Dr. Yu, Dr. Marques, Dr. Bitew, Dr. Chrysafi, and Dr. Kalemaris, for helping shape my understanding of the universe, while encouraging me to be my very best. To my family, a special thanks for the continuous love and support, because without them none of this would have been possible."

Bunster earned the right to compete by solving the most problems in a month, posted in the FSC math department. That's not surprising for those who know Bunster, who tutors at the math center and is a teaching assistant for courses such as Calculus and Calculus II. His work has also won him internships, such as one at Wall Street giant Morgan Stanley.
Graduating at the end of the fall semester, Bunster has his sights set on a PhD in applied mathematics, specifically in quantitative finance and statistics.
Said Bunster about his future: "I hope to leverage my mathematical background and my computer programming skills to open my own quantitative investment firm in the future."