Students Activities Is Hiring
November 12, 2018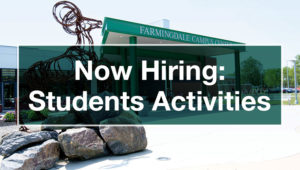 The Office of Student Activities is hiring for positions at the Campus Center information desk and building manager at Conklin Hall. Applications are open until 11/16, 5 p.m., at RamCentral. Click to apply for the information desk, and here for building manager.
Position descriptions, responsibilities, requirements, and hours of operation are found on the application forms.
For more information, contact Alicia Femoyer; 631-420-2103.
Print and post this flyer.