Want a Job? the Job Fair Is for You
Thursday, November 15, 2018 11:00am - 2:00pm Campus Center Ballroom
Past Event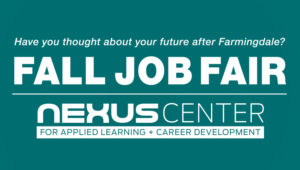 Looking for work, or maybe an internship? Then look no further than the Fall Job Fair, sponsored by FSC's Nexus Center.
Recruiters from more than 60 companies will be there, including Northwell Health, Newsday, Estee Lauder, Underwriters Laboratories, D3 LLC, and New York Blood Center. Click here for a complete directory of employers. The event is also open to the public.
You know the drill: dress professionally and bring lots of copies of your resume. Need help writing it? The Nexus Center wants to help so email them for more information or visit the webpage.
For more information, contact Dolores Ciaccio; 631-420-2296.
Print and post this flyer.
Published on November 5, 2018