LIEOC Assistant Director Named a "Top 50 Woman"
November 5, 2018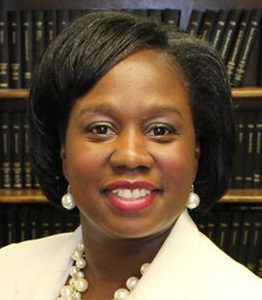 Dr. Corinthia Price
Dr. Corinthia Price '95, assistant director of career development at LIEOC, has been named a "Top 50 Woman" by Long Island Business News.
"Winning this award has greatly validated my achievements to date," said Dr. Price. "Professionally, it means I can create positive change on a greater scale. I feel a sense of responsibility after winning this award. This is just the beginning and there is more work to be done. Personally, it's recognition that I am on the right path. It gives me great joy to earn accolades for what I am passionate about."
Dr. Price – who earned an associate degree in business administration at FSC – is an international business advisor, entrepreneur, scholar, workforce and economic development consultant, and educator. She specializes in diversity and inclusion in the workplace. She is CEO and founder of Workforce Career Readiness™, a company whose goal is to ensure that businesses and organizations have a competent workforce, equipped with the knowledge and skills necessary for success in the 21st century marketplace. Dr. Price also founded "100 High School Students America Needs to Know" – a national competition that recognizes outstanding students.
Dr. Price is grateful in more ways than one for her education at Farmingdale.
"Farmingdale State College provided me with the foundation of business basics. I learned how to successfully start and operate a business. By acquiring these skills and competencies, I am able to have a seat at the table of success.
"However, I learned how to conduct myself professionally from various women on campus. During my time at Farmingdale, I was under the mentorship and tutelage of Dr. Patricia Hill Williams [chair of FSC's College Council], Pamela Gwathney [retired EOP counselor], and the late Cheryl Canton [former student support service coordinator at LIEOC]. These women instilled in me the fierce determination to boldly go where few dared to tread. They believed in me, when at times when I didn't believe in myself. These accomplished women of distinction never hesitated to correct, chastise, and redirect me when needed. I am forever indebted to Farmingdale State College for giving an average student an excellent opportunity to succeed."
Dr. Price also serves as chair of the Empowerment Collaborative of Long Island, Inc. board.  She was appointed by Suffolk County Executive Steve Bellone to the Suffolk County Workforce Development board and African-American Advisory Council. She is a highly sought-after keynote speaker and has presented at national and international conferences.  She has been featured in numerous magazines, articles, and publications, and is a contributor to Thrive Global, Forbes, and Technical Education Magazine.
Dr. Price says she is a firm believer that opportunity for success is not reserved for a select few, but for those who are willing to create their own opportunities by taking risks.