Students Turn Out for National Manufacturing Day
November 5, 2018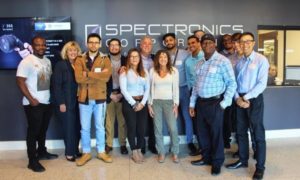 A contingent of FSC students recently spent National Manufacturing Day touring Long Island's Spectronics Corp. And why not? That's where the jobs are. Five FSC alums and one intern work there, and the company is looking to fill three more positions.
"We want to connect with companies whose business models align perfectly with our curriculum at FSC. Spectronics is a perfect fit," said Vice President for Development and Alumni Engagement, Nancy Connors.
Spectronics is the world's leading manufacturer of ultraviolet equipment and fluorescent dyes. The tour was conducted by company president Jon Cooper.
The tour was an eye opener, said student Harris Ayaz '19, a mechanical engineering technology major.
"We stopped by each department to take a look at their processes. We saw their glass tubing department, sheet metal fabrication, metal cutting, packaging, labeling, and printing divisions. A lot of work is being done in-house and the staff is very knowledgeable and passionate."
Dr. Jeff Hung, co-chair of the mechanical engineering technology department, said: "One of the main reasons I was impressed about the company is that they are not just a manufacturing company. They design, develop, and manufacture their own products. They also have their marketing team and customer support team. Everything is housed under one roof."
Dr. Hung also knows the secret to why so many FSC graduates work at Spectronics.
"They have hired quite a few MET graduates and current students. I believe they like our students because they use the same CAD software we teach, and they use similar CNC machines that we have in our manufacturing lab."
National Manufacturing Day saw more than 1,600 companies conduct tours of their facilities, with the aim of inspiring students to pursue careers in manufacturing and engineering.