Volleyball Tourney Raises Money for Bone Marrow Transplants
November 5, 2018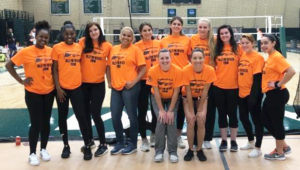 The Farmingdale State women's volleyball team recently hosted "Volley for the Match," a tournament to raise money for leukemia and lymphoma victims who need bone marrow transplants.
The co-ed event, which featured players from across Long Island, was in support of FSC assistant coach Cathryn McLean-Shara's sister, Danielle DeSimone, who is battling leukemia. Two thousand dollars was raised for Be the Match, the largest marrow registry in the world, operated by the National Marrow Donor Program.
The FSC volleyball program is hoping to make the fundraiser an annual event.