Put a Smile on a Veteran's Face
November 5, 2018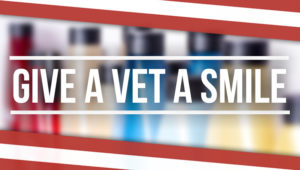 FSC's annual "Give a Vet a Smile" program is back, and you can help with the smile.

The Dental Hygiene department is looking for contributions of personal-sized bottles of shampoo, which will go into packets of personal hygiene items for veterans in need. Bring the bottles to Gleeson Hall Room 241, and look for the donation box or ask for Rose.

The packets – which will be prepared by freshman and sophomore dental hygiene students – will then be delivered to various to veterans facilities, which will distribute them to veterans.

For more information, contact Professor Lawrence Pizzitola; 631-794-6440.