Bioscience Student off to Indiana to Present Research
November 12, 2018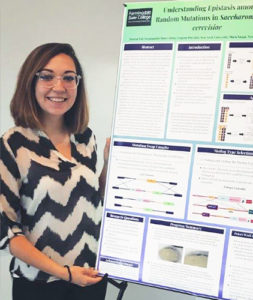 Janessa Vail
Bioscience major Janessa Vail '20 is off to Indianapolis this week to present research that has already been exhibited twice at NYU. It's a big deal.
Janessa will give a poster presentation titled "Understanding Epistasis among Random Mutations in Saccharomyces cerevisiae," at the Annual Biomedical Research Conference for Minority Students, in Indianapolis. She has been sponsored by the Farmingdale College Foundation, and is one of only nine students chosen from around the world. Other participants include students from Jordan, Egypt, Canada, Puerto Rico, Virginia, Georgia, New Jersey, and New York.
Janessa spent last summer conducting research at New York University's Center for Genomics and Systems Biology.
"Janessa Vail is an outstanding representative of the bioscience program, and the biology department is proud of her many accomplishments," said Dr. Sarah Gross, department chair. "We are excited to see where her future takes her, and are happy to support her and be a part of her journey."