Practice Makes Perfect for FSC Nursing Students
November 12, 2018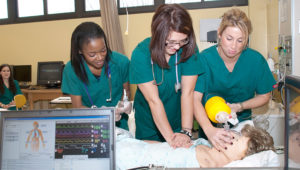 FSC nursing students are perfect.
How does a 100% pass rate sound? That was the 3rd quarter pass rate for FSC nurses-to-be who took the NCLEX RN exam.  Compare that to the state average of 89.3%, and you see why Farmingdale's nursing program is second to none.
The NCLEX exam is a standardized exam that each state board of nursing uses to determine whether or not a candidate that has successfully completed an accredited nursing degree is prepared for entry-level nursing practice. First-time pass rate is critical for nursing programs, since it is the statistic that NYSED and CCNE, the program's accrediting body, use to evaluate the quality of those programs. Prospective students use the information to make a decision about where they will study nursing.
One of the reasons FSC beats the pack is that it is the only program on Long Island that requires 315 hours of clinical time spent one-on-one with highly qualified preceptors. The preceptors are Master's-prepared nurses working at Nassau/Suffolk/metro-area partner-hospitals. Eighty percent of FSC graduates find work at the hospital where they completed their capstone experience.
"I am proud of our students and my faculty. I feel honored to serve as chair of the Department of Nursing," said Dr. Lori Goodstone. "A pass rate of one hundred percent is a wonderful thing, but it is a high standard to live up to. We are up for the challenge."