Celebrate Resilience, Inspiration, and Hope at the Multicultural Gala
March 23, 2021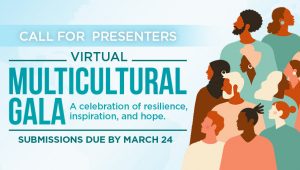 The eagerly-anticipated annual Virtual Multicultural Gala is scheduled for Wednesday 4/21, from 4-7 p.m. on Microsoft Teams, and the multicultural committee is extending an invitation to student artists and poets, and campus clubs, to be part of the event.
Present a poster about your favorite country or ancestral homeland.  Perform a dance. Faculty, bring your students. Students, bring your friends. Use your imagination!
Presenters will be leading 2-10 minute sessions in these categories:
Personal Story
Heritage/Traditions
Art
Dance
Cooking
Other
Formats: Video, PowerPoint presentation, live stream performance, etc.
There will be cash awards for presentations and raffle prizes for attendees to the Virtual Multicultural Gala.
The deadline to submit is Wednesday, March 24, 2021.
Sign up to present at the 2021 Multicultural Gala.
Sponsored by: Student Government Association and Auxiliary Service Corporation.