An Important Message from President Nader
January 26, 2021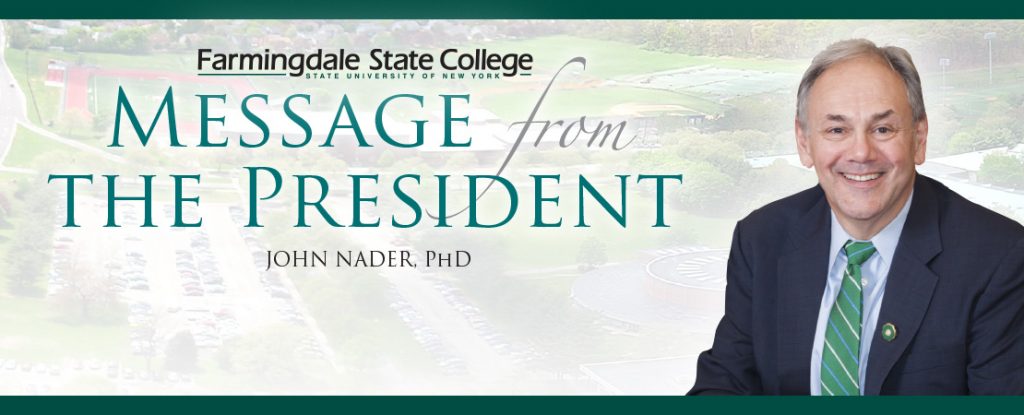 We want to advise you of changes to FSC's mandatory COVID-19 safety protocols, enacted in accordance with NYS and SUNY directives. For the Spring 2021 semester SUNY requires all students who live on campus and/or plan to be on campus regularly (including instruction, co-curricular activities, and meetings) to be tested on a weekly basis.
All students who are on-campus for any reason are required to complete all of the following or face removal from in-person classes and lose access to on-campus services:
Pre-Arrival Agreement: Complete the Pre-Arrival Agreement which requires a seven-day precautionary quarantine before returning to campus.
COVID Document Upload: Present evidence of a negative COVID-19 test taken within three days prior to January 29 OR participate in an on-campus COVID-19 testing opportunity within five days of initial return to campus (only rapid antigen and PCR nasal swab testing results will be accepted) OR present documentation of a positive COVID-19 PCR result from the prior three-month period before initial return to campus using the COVID-19 Test Upload link.
Daily COVID Screening: Begin completing the daily health screening tool 14 days prior to their first day on campus and continue for the entirety of the semester (including those days when they are not expected on campus).
If you have an on-campus footprint, you are also required to comply with all the below testing protocols which are designed to keep the campus community, yourself, and your families safe:
Expanded Testing: Effective immediately and consistent with SUNY guidance, FSC requires all students who live on campus and/or plan to be on campus regularly (including instruction, co-curricular activities, and meetings) to be tested on a weekly basis. Commuter students who do not plan to visit the FSC throughout the course of the months ahead are exempt from this obligation.
Increased Convenience: The Health and Wellness Center now offers walk-in surveillance testing five days a week in Roosevelt Hall's Multipurpose Room from 10:00 am to 3:00 pm. Thanks to an ongoing partnership with Enzo Clinical Labs, students may schedule and receive weekly diagnostic tests (PCR – nasal swab) outside regular business hours and conveniently transmit their results electronically to the Health and Wellness Center online.
Enforcement: The Office of the Dean of Students will strictly enforce SUNY's Uniform Sanctioning in Response to COVID-19 Student Violations Policy. Therefore, if a student misses two appointments, the Office of the Dean of Students will take administrative action to prohibit the individual from visiting the FSC campus. There will be no exceptions to this enforcement. Faculty will receive regular written updates via email regarding their non-compliant students who will no longer be eligible to attend in-person classes.
Trauma-Informed Care: Coronavirus-related isolation, fear, and stress can feel overwhelming – and potentially exacerbate mental health challenges ranging from anxiety to depression. To contact FSC's Campus Mental Health Services team, please visit their webpage or call 934-420-2006.
Facing the unique challenges posed by the ongoing public health crisis requires robust collaboration between all members of the FSC community. Your cooperation is required to ensure that our campus continues to operate safely.
I fully understand the inconvenience resulting from the implementation of these health and safety protocols. These measures are designed to meet State University of New York requirements and, most importantly, to protect the entire campus community and your family.
Please visit the home page of the College's web site at www.farmingdale.edu, where you will see a prominently displayed message "Spring 2021: What Students Should Know." From here, you can navigate to a wealth of pertinent information about campus operations for the spring 2021 semester.
John Nader
President