10th Annual CTLT Conference
Friday, February 5, 2021 10:00am - 4:00pm
Past Event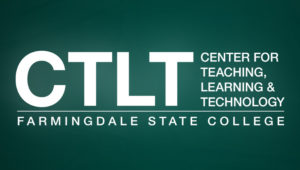 UPDATE:
The 10th Annual CTLT Conference "Online Student Engagement" was a huge success with over 300 attendees.  Faculty and staff along with 100 UHS Faculty partners from participating school districts participated in the event.  The Keynote speaker Dr. Bettyjo Bouchey kicked off the conference focusing attention on bridging the virtual divide and creating meaningful learning experiences through community building.  The afternoon included colleagues from Monroe Community College who provided information on the utilization of the CircleIn App to support student engagement followed by mini presentations from faculty across all schools who shared experiences and lessons learned from the fall semester.
*****
Registration is now open for the 10th Annual Conference of the Center for Teaching, Learning and Technology.
The Center for Teaching, Learning and Technology (CTLT) is the umbrella organization that publicizes, coordinates, and supports faculty development activities at Farmingdale State College. The CTLT advances the College's Mission and its commitment to excellence in teaching and learning by providing interactive faculty development opportunities; supporting technologies that enhance the teaching and learning process; encouraging innovation in pedagogy; and promoting programs and services that assist with course development, instructional delivery, assessment, and scholarship.
FSC's theme this year is 'Engaging Online Learners'. Registration and agenda is now available at https://www.farmingdale.edu/ctlt/. You will receive the access URL after registering.
The Conference will take place on Friday, February 5th, 9:45am-4:20pm (online). We hope you can join us!
Keynote Speaker: Karen Costa of 100 Faculty.
Faculty Presenters include:
Christopher Adamczyk
Ellen Bartley
Yu Chen
Katelynn DeLuca
Chiara DeSanti
Gozde Ustuner-Kal
Jaime Hartless
Noel Holton-Brathwaite
Christopher Iverson
Jason Lotz
Michael Mastermaker
Edward Plough
Samantha Somma
Carly Tribull
Ebru Ulusoy
Guest Presenters include:
Brett McFarland, CirlceIn
Kimberley Collins, Monroe Community College
Published on January 26, 2021