FSC Professor Researches 'Camming' Phenomenon
December 1, 2020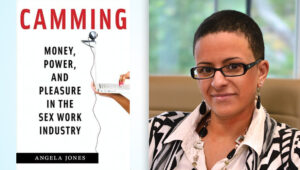 Dr. Angela Jones
Camming – which The New York Times once described as "a kind of digital-era peep show" – is the subject of a new book by Dr. Angela Jones, Associate Professor of Sociology and Coordinator- Women, Gender, and Sexuality Studies.
Camming: Money, Power, and Pleasure in the Sex Work Industry (NYU Press) is the first book about the camming industry.
"Camming" empirically documents the industry's current size, profitability, history, and analyzes the motivations and the experiences of a relatively diverse sample of cam models," Dr. Jones says. "It provides a unique vantage point from which to understand and theorize around sexuality, gender, race, and labor, in a time when workers globally face increasing economic precariousness and worsened forms of alienation, and desperately desire to recapture pleasure in work."
The book captures the voices of over 500 webcam performers from all over the globe. Many of the cam models Dr. Jones spoke with were college students, but others were mothers, healthcare workers, accountants, people who needed extra cash to pay off debt, and porn performers and other sex workers.
"A fascinating, much-needed glimpse into the lives of cam models, Camming takes us behind the webcam lens to experience the power of erotic labor in the twenty-first century," Dr. Jones says.