Offshore Wind and the Women Driving It
May 18, 2020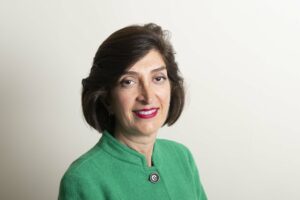 Professor Marjenah Issapour
Professor Marjaneh Issapour, director of the Renewable Energy and Sustainability Center, will be a featured speaker at WRISE NY Capital Region Webinar: New York Offshore Wind: Meet the Women Driving the Next Generation of Renewable Energy.
The webinar is scheduled for Wednesday, 5/27, noon – 1 p.m. The subject will be New York's nation-leading offshore wind market, and the women driving the next generation of renewable energy. Register here.
Other speakers include:
Adrienne Downey, Principal Engineer, Offshore Wind, NYSERDA
Julia Bovey, Director of External Affairs, Equinor Wind US
Abby Watson, Head of Government Affairs, North America, Siemens Gamesa
Offshore wind represents a cornerstone of New York's ambitious and comprehensive climate and clean energy legislation, the Climate Leadership and Community Protection Act. A new industry in the U.S., New York is working to develop 9,000 MW of offshore wind power by 2035, enough to power up to 6 million homes.