Become an Accessibility Expert
May 18, 2020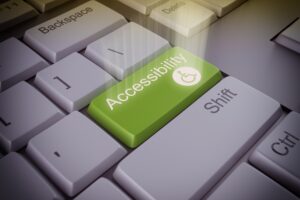 Accessibility training for the campus community has begun, and will continue for the rest of the year.
Learn about web accessibility, and how to make accessible PDFs, MS Office documents, Adobe files such as InDesign, and other documents. It is imperative to know how to create accessible content, to ensure everyone is included in the online learning process. Training is free for FSC faculty and staff.
Click here to learn more. Click here to register.
Questions about accessibility, or making materials accessible? Email accessibility@farmingdale.edu
SUNY has entered into an agreement with Deque Systems Inc., to provide accessibility training across all SUNY campuses. Deque University is an online digital accessibility training platform that provides comprehensive training on a variety of topics, including web accessibility, document accessibility, accessibility management, testing, disability etiquette, and more. ​