Students Tackle Immigration Issues, Earn Credit at Day of Service and Advocacy
October 7, 2019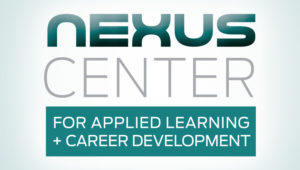 The Nexus Center and International Education and Programs recently presented the FSC Day of Service and Advocacy, an event that addressed current immigration issues and earned student participants credit for their applied learning graduation requirement. The event was a success, with more than 70 students attending, most of whom were freshmen.
"Throughout the day, I was consistently impressed by the level of student engagement in every part of the program," says Lauren Jorgensen, Applied Learning Counselor. "Not only did the students ask thoughtful questions, but they also asked that we send their letters to their respective representatives. I'm thrilled to have brought this important topic to a group of such critical thinkers."
Among the outcomes of the event were:
72 students attended, with more than 20 academic programs represented across FSC's four Schools. Eighty percent of the students were freshmen.
When evaluating learning outcomes after the event, 83% of students felt more confident about articulating the differences among various immigration statuses; 86% felt more confident in describing the privileges and challenges of different statuses; and 87% felt greater awareness of how to identify and contact their legislative representatives regarding issues of importance.
Before the event, 21% of students reported no awareness of their legislative representatives or how to contact them. After the event, only 1% of students reported less awareness.
Says Nexus Center Executive Director Rena Varghese: "By offering institutionally approved co-curricular activities that count towards the college's new applied learning graduation requirement, FSC is a leader within SUNY for developing non-credit applied learning opportunities for students that meet the same criteria required by approved academic courses. These efforts also enhance student learning and interaction with community organizations and industry partners."