Hal Buckner's Reimagined Art Coming to Memorial Gallery
Monday, September 16, 2019 - Friday, November 15, 2019 9:00am - 4:00pm Memorial Gallery, Hale Hall
Past Event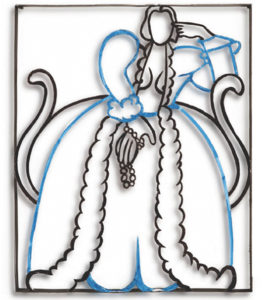 The Memorial Gallery is bringing sculptor Hal Buckner to FSC. The exhibit – "Fall from Grace: Works by Hal Buckner" – features revisited works of women represented in masterpieces of Western art. Buckner, says gallery director Beth Giacummo, "inserts a contemporary female paradigm. By using iconic works of art as well as humor, his work questions how women fit in the broader context of art and history."
Buckner is an innovative and versatile artist who is trained in both sculpture and painting. His current studio work is rooted in line drawing fundamentals and the female figure.
"As a sculptor, light, shadow, and the power of a single line have always fascinated me," Buckner says. "The figure, in particular the female form, has been a lifelong pursuit in my work. Even when I have made a conscientious effort to depart from the figure, I have always returned to it for inspiration, challenge, and the dynamism that it offers. Drawing inspiration from impressions in mass media and popular culture, I appropriate images – in part or in whole – and translate them into life-size sculptures which shed solidity while retaining the essence of form and sculptural quality."
Buckner is professor emeritus of Pierce College, Tacoma, Washington, and has taught sculpture on the collegiate level in Washington, Pennsylvania, and New York for more than 25 years. He lives in Southampton.
A reception is scheduled for Tuesday, 10/1, 5 – 7 p.m. at Hale Hall. A lecture by Visual Communications Professor Alexandra Giordano will also be held Tuesday, 10/1, from 11 a.m. – noon, in Gleeson Hall Room 104.
Admission to Memorial Gallery is free, and open to the public. The gallery is open weekdays only.
Help spread the word. Print and post this flyer.
Published on September 3, 2019