International Education and Programs Wins Award for Number of Students Studying Abroad
May 7, 2019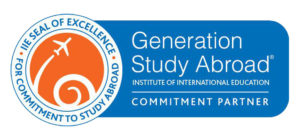 A Seal of Excellence from the Institute of International Education has been awarded to FSC's Office of International Education and Programs for more than doubling the number of FSC students studying abroad. The pledge to double student participation was made in 2014.
At the time International Education and Programs made its pledge, 85 students had studied abroad between fall 2012 and fall 2014. Since 2014, 362 FSC students have studied abroad.
The dramatic growth can be attributed to a campaign by International Education and Programs that included aggressive marketing to students, partnerships with schools outside the U.S., an expanded number of countries for student visits, an International Education Week, new logo and printed materials designed by the Office for Institutional Advancement, and a streamlined financial aid process.
"It is such a great accomplishment to have been able to achieve this goal," said Agata Knapp, Education Abroad Advisor. "Our overarching mission is to continue this trend and hopefully even triple or quadruple these numbers. Making a global impact on students' lives is the ultimate objective."
The Institute of International Education is a world leader in international education, creating more peaceful and equitable societies by advancing scholarship, building economies, and promoting access to opportunity. As a not-for-profit organization with 18 offices and affiliates worldwide, IIE collaborates with a range of corporate, government, and foundation partners around the world to design and manage scholarship, study abroad, workforce training, and leadership development programs.
See the Seal of Excellence awarded to International Education and Programs.