Give Back Your Unwanted Meds
Saturday, April 27, 2019 10:00am - 2:00pm Farmingdale United Methodist Church, 407 Main St (Grant Ave)
Past Event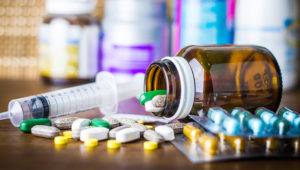 medications on a table and a syringe
"Shed the Meds" – a program that allows you to turn in your unused or expired medications for safe disposal – is being co-sponsored by FSC's ADAPT (Alcohol and Drug Abuse Prevention Team), a campus-community coalition dedicated to providing prevention and help to those with substance abuse problems.
The event – co-sponsored by Farmingdale United Methodist Church – is supported by Nassau County's Second Precinct South. Community Action for Social Justice will be collecting used and unused needles. ADAPT will be conducting free NARCAN training and providing NARCAN nasal spray kits, and information tables will have materials from local community resources.
Please follow these instructions:
Keep all medications in original containers
Black out your name for anonymity, but do not cross out medication information
Syringes and sharps will be accepted
NO thermometers or IV bags
NO chemo drugs
NO liquids of any kind
For more information, contact Kelsey Russell, Health and Wellness Center; 631-794-6499.
Help spread the word. Print and post this flyer.
Published on April 16, 2019