Hungry All the Time? FSC Can Help
February 15, 2019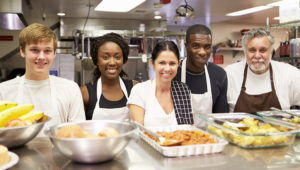 Food insecure? Hungry all the time? Can't afford a nutritious meal? FSC's Health and Wellness Center can help.
Start with an appointment with Jamie Hawkins, 631-420-3576. She will interview you and help in one of two ways: refer you to a food bank that will provide food on the spot, and/or help you apply for SNAP benefits. SNAP – the Supplemental Nutrition Assistance Program – is the largest federal nutrition assistance program. SNAP provides benefits to eligible low-income individuals and families via an Electronic Benefits Transfer card. The card is used like a debit card to purchase eligible food in authorized retail food stores.

If you need assistance right now, Hawkins will send you to either St. Killian's Church or Farmingdale United Methodist Church, both in Farmingdale. St. Killian's will take care of you the first visit, and on a continuing basis if you live within the parish boundaries. If you live outside those boundaries, St. Killian's will locate a food pantry in the community in which you live.
Farmingdale United Methodist Church invites students to its Sunday soup kitchen. Food is served  1 – 2:30 p.m., in the church's fellowship hall, located downstairs at 407 Main St., Farmingdale. Use the side entrance on Grant Avenue.
"Asking for help is a sign of strength, not a sign of weakness," said Kevin Murphy, director of the Health and Wellness Center.